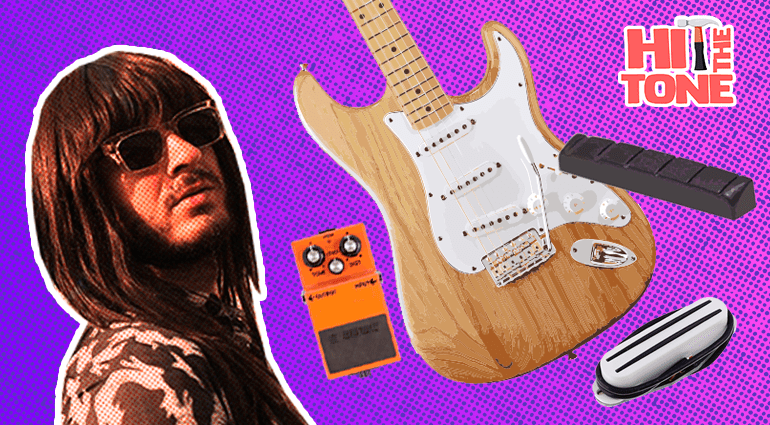 Hit The Tone – Khruangbin & guitar magic
Hit The Tone – Khruangbin & guitar magic
Khru- what? Did you just punch the keyboard?
Nope, relax! Khruangbin is a trio from Texas with one of the most charismatic sounds as of late. They've released 2 EPs (Khruangbin and The Infamous Bill) and 2 LPs (The Universe Smiles Upon You and Con Todo El Mundo) among a half a dozen singles. Since 2011, Laura Lee (bassist), Mark Speer (guitarist) and Donald "DJ" Johnson (drums) concoct a unique and warm personal sound. Theirs is a sublime blend of San Fran psychedelia, acid rock, North & South American folk, Thai funk and soul. If you're wondering about the band's name, it means "airplane" in Thai.
Those who have seen Khruangbin live say that what they deploy on a stage is unforgettable. Although most of their music is instrumental, there's always a "voice" around which everything is structured: Mark Speer's guitar. How is he able to get so many sounds out of that Stratocaster? That's precisely what we are here to talk about. Get ready to take notes.
---
You've piqued my interest. So how does he play his guitar?
Well, honestly, he plays like a choir of angels. What this means to you may differ from what it means to me but listen to their recordings and live videos to get an idea. We're going to focus on Speer's guitar secrets here, which is no easy task. He has emphasised on several occasions that his guitar doesn't have much history. The American plays a Fender Stratocaster from the turn of the century, but he claims he could play with any other type of Strat. Therefore let's take a look at one of Fender's latest American Strat models, in the mid-high range of Stratocasters:
The Aerodyne Classic is an archetype of what a Stratocaster should be: flamed maple top, contoured profile with cream binding, maple neck, 22 frets and three standard single coil pickups.
Another model that we found for a similar price belongs to the Signature Series, and is
the Jimi Hendrix Stratocaster, which, with its reversed headstock, includes American Vintage '65 pickups with the bridge pickup tilted the other way. This gives you that unique Jimi sound because the height of the magnets, in relation to the strings, is inverted.
On a larger scale, we find enormous variety in Stratocasters, normally belonging to the Signature series. One of the most emblematic is the Stevie Ray Vaughan Signature model, designed in 1990 by the
blues rock legend. It has an alder body and a neck with the shape, texture and hardness typical of the 1960s, a Pau Ferro fretboard with jumbo frets, three Single Coil Fender Texas Special pickups, and left-handed tremolo.
Another mythical signature model, maybe the signature par excellence, is the Eric Clapton Signature Strat, with a somewhat thicker neck and a sound, as Clapton himself states, resembles a Gibson at times.
Let's get back to reality now, there are also many Strats available for more reasonable budgets. The Stratocaster PF SRD Player, manufactured in Mexico, comes to replace the Standard Series. Despite the adjustment of materials that make it more economic, the Player supports the classic Strat sound, with three Player Series Alnico 5 single-coil pickups, maple or Pau Ferro neck, medium jumbo frets and a two-point vibrato bridge. Check it out in this video ?
https://www.youtube.com/watch?v=FHvH1xxrGD0
---
So that's it? Doesn't Mark Speer have any secrets?
Of course he does. As we said, Mark Speer plays a Stratocaster, yes, but adds certain modifications into the mix. One of them is the inclusion of two DiMarzio DP186 pickups, one on each side of the middle pickup, taking his Stratocaster to other dimensions.
We're talking about a humbucker pickup in a simple format, with a much rounder sound – warmer, more psychedelic – than that provided by the vast majority of pickups, including those of the Stratocaster. Another of its great advantages is the amount of nuances it brings to the bass and the ceramic magnet it incorporates. Other interesting models of DiMarzio pickups are the DP384
with a more powerful, fatter sound. Garage rockers, the DP218 SuperDistorsion, perfect, as its name suggests, to combine with distortion pedals and create skeins of sound and atmospheres or the DP419, which provides a very balanced sound.
https://www.youtube.com/watch?v=gtE04gdWE0g
---
Understood. More gadgets, please!!
Yeah, there are still a couple more. Speer states that has been using flatwound strings for the last 15 years and these days prefers D'Addario's flatwound chromes. Watch his Rig Rundown video above to learn more about his unconventional string preferences. To keep these strings sitting comfortably Speer changed the nut on his Strat. He specifically opted for the Graph Tech brand, where we can find plenty of variety.
In general, what Speer is looking for when changing this small piece of his original Strat is to achieve a higher quality of harmonics and a greater precision in terms of tuning. There are also those who say that using certain nuts makes your strings last longer, which coincides with Speer's statement: "I hate changing the strings". An interesting option is the XL Slotted Jumbo Nut, interesting by
its consistency and strength. Other models that deserve our attention are the XL F-Style Slotted Nut, bathed in Teflon, which adds brightness to the sound, the GT PT 6010 00 Black Tusq XL, ideal for Gibson guitars, the XL Zero Fret Nut , also ideal for precise tuning, or the GT PQ 5000 00 Nut, perfect for Stratocaster guitars.
---
Are we done here?
Well, we haven't mentioned his amplifier preferences yet. When Khruangbin record, Speer uses a Fender Deluxe Reverb "blackface" and when they go on the road he brings a Fender '68 Custom Deluxe Reverb "silverface" reissue. Both are fantastic and powerful tube amps with their Fender-typical spring reverb and a tube vibrato effect, which Speer clearly likes.
But Speer doesn't always play clean through these beautiful amps, if you know Khruangbin's music, you know that it would be unforgivable to finish this article without talking about pedals, so let's get right into the thick of it.
The first of all, almost obvious, is the Boss DS-1 Distortion, a classic overdrive / distortion pedal. We are talking about an aggressive and raw distortion, designed especially for British amplifiers and fully sonorous, nothing to do with the sterile fuzz of some old pedals. Its three controls allow a great variety of possibilities, all of them robust and reliable, as is usually the case with Boss pedals. Another pedal that is inevitable to mention is the Strymon El Capistan, a faithful replica of a real tape echo in an exceptionally robust package. In addition to its wide range of possibilities when it comes to getting different degrees of delay and echo, it produces a tremendously organic sound.
Back to Boss, this time to talk about a phaser, the PH-3, with vintage and contemporary phasing effects. In terms of sound, we're talking about one of the most versatile phasers on the market. You can select the speed and phaser frequency, in addition to its depth and resonance, as well as the signal displacement. Another pedal used by Speer is the Dunlop Crybaby Classic GCB95 F, an iconic wah that retains the classic flavour of this effect because of its classic Fasel coils. What stands out about this pedal, besides its sonorous fidelity, are comfort and ease of use.
Of course, we can't forger the reverb pedal. Speer's favourite, without a doubt is the Electro Harmonix Holy Grail, which brings together a deep and nuanced spring reverb, hall reverb and a special flerb effect (flanger + reverb). As for compressors, the one chosen by the Khruangbin guitarist is the MXR M 291 Dyna Comp Mini, a pedal which combines the classic compressor of the Dyna Comp with an improved, quieter, circuit with remarkable transparency and greatly improved dynamic range. We finish this section about Mark Speer's pedals with the Roland EV 5, an expression / volume pedal that facilitates a more dynamic interpretation, by being able to control the volume or effect level in a very intuitive way.
---
Conclusion
This overview of the little tricks that make Mark Speer's guitar sound like it does (taking into account, greatly, his enormous talent) reminds us that it is possible to adapt your instrument, even more than a manufacturer thinks, to your personal taste. This requires, firstly, a vision of the type of sound you want then a knowledge of the technique(s) required to make it a reality. Once again, it is clear that sometimes the smallest details make all the difference.