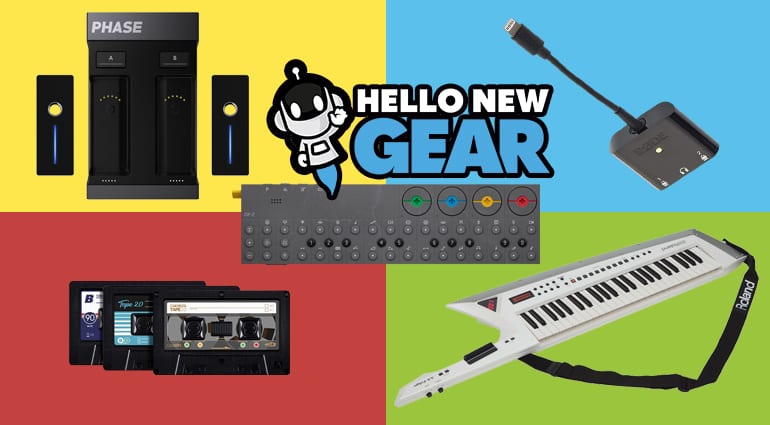 Hello New Gear – October 2018
Hello New Gear – October 2018
? Get the latest and greatest in music gadgets from around the world right here ?
Hello New Gear, October 2018 edition is here… 
---
It's hard to tell from this photo exactly what it is… This is the first wireless controller for DVS (Digital Vinyl System) for turntables. It allows you to DJ without the use of timecode / control vinyl, instead you use a transmitter which spins on your turntable and this sends very precise position / motion data wirelessly to the receiver. Genius, yet simple enough.
The USB-powered receiver box doubles as a charger for the transmitters and on a 1-hour charge you get 10 hours of playing time! It comes packaged with 1 Phase receiver, 2 Phase transmitters, 2 RCA cables, 1 USB cable and 4 magnetic adhesives (for mounting to your turntables). Switchable LEDs indicate the vinyl position and the receiver is compatible with any common DVS software: Serato, Rekordbox, Traktor, Virtual DJ, etc. Dimensions: 25 x 124 x 77 mm. More details in this video…
---
This handy little device is compatible with iOS / Apple devices and allows you to record two tracks of high-quality audio, via Lightning connector, into your device while directly monitoring what you are recording. Perfect for lavalier mic interviews! The free app allows you to configure the mics' input and gain levels. So simple, compact and essential for journalists, interviewers, YouTubers and anyone wanting pro audio on the go. This product is also available in a package called the "Interview Kit" and includes two Rode SmartLav+ lavalier mics and a carrying pouch. More details in the vid…
---
Is that a TV remote control? It's about the same size but this is the OP-Z Dream Machine by Teenage Engineering, a workhorse 16-step / 16-track sequencer & synthesizer which also brings visuals into the mix by dedicating an entire track to video and another to DMX lights. You can connect the OP-Z to any iOS device and, through the app, get a visual representation of what you are doing. There is lots you can do with this device to break out of the 16-step limitation (watch this performance), and therefore one person can put on an entire, dynamic, show using this tiny little box! For a more detailed explanation:
Price €573
---
This tiny, audio cassette-sized, device allows you to record music directly to USB or a micro SD card. It can record in 24-bit WAV format or MP3 format. This is especially ideal for DJs who want to record their entire DJ sets easily and without hassles. The mini jack audio input also allows you to record from any compatible device, such as a radio, so that you can make mixtapes the way they were made in the past! Retro method, new technology! 
Price €147
---
The Keytar is back in black (and in white)! And this time with more features than ever. Featuring 49 full-sized keys, 256 notes of polyphony, a (customisable) modern design and a professional sound set this machine is a keytarist's dream come true. It also has a new built-in vocoder and also allows you to create and install your own sounds using the smartphone app. The possibilities are endless with truly remarkable instrument. Watch the video below to see a demo of its capabilities:
Technical Specs: 
Number Of Keys: 49 (full sized with velocity and channel after-touch)
Amount of simultaneous tones: 256
Number of programs: 320
Preset tones: over 500
Multi-effects and EQ: 79 types
Ribbon controller & Modulation bar
Bluetooth (4.1) & MIDI compatible
Sound Engine: Sample-based
MIDI interface: 1x In, 1x Out
Effects: Multi-effect processor
Number of Analog Outputs: 2
Battery operation time: up to 4 hours
Extra Edge Blade included (for design preference)
Shoulder Strap included
Price
€929
---
What do you think of these new products?! Which ones have you tried? Let us know in the comments! ✍?