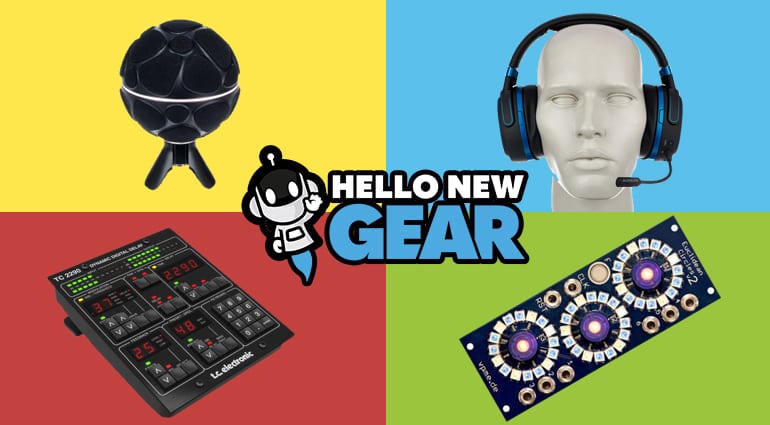 Hello New Gear – November 2018
Hello New Gear – November 2018
Welcome to the November 2018 edition of Hello New Gear – dedicated to the hottest, freshest and most innovative products on the market for musicians and music enthusiasts! ?
---
This little alien is actually a multi-channel condenser microphone which allows you to record multiple instruments at once to and automatically separate them to individual tracks! Sounds too good to be true right? With a quick calibration and sound check it does the job really well. So much faster than setting up multiple mics around the room! The Zylia mic is available in two sets, Standard and Pro, the later including ​the complete software set (ZYLIA Studio PRO, ZYLIA Ambisonics Converter​ and ​ZYLIA Ambisonics Converter plugin). Check out the video below for more details…
Technical Specs: 
ZM-1 microphone array with 19 high quality omnidirectional condenser capsules distributed on a sphere; connection to the computer via USB; 48 kHz / 24 bit recording; "Zylia Studio Software" for recording, editing, decoding and mixing of the microphone tracks; enables to change every instruments volume and panorama stereo position after the finished recording session; extract individual instruments into separate tracks; export tracks into any DAW software as WAV file; ZM-1 dimensions: 155 x 103 mm; ZM-1 weight: 470 g; Micro USB 2.0 port; 1/4″ and 5/8″ stand threads. Includes Tripod, thread adapter and USB cable.
Prices: Standard: €579 / Pro: €918
---
This Bluetooth Headset features the latest immersive sound technology and unmatched comfort, whether it's for gaming, watching films or listening to your latest favourite album on repeat! Featuring Waves NX Technology it really puts you inside of the sound in a way never before heard!
Technical Specs: 
Blluetooth connection (SBC, AAC, LDAC)
Closed, Circumaural
100 mm Driver
Detachable microphone
Frequency range: 10 – 50,000 Hz
Sensitivity: 120 dB / 1mw
Colours: Blue or Copper
Prices: Blue €439 / Copper €444
---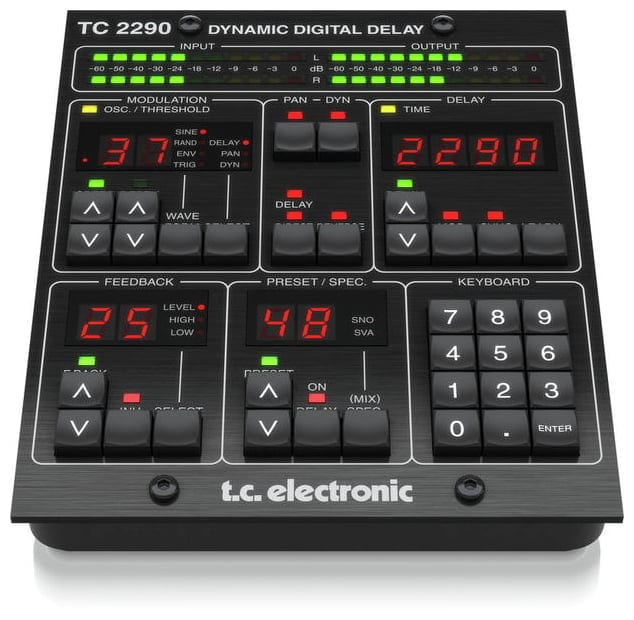 This Dynamic Delay Plug-In with desktop remote is an emulation of the famous TC2290 Digital Delay rack unit (1986). It provides beautiful delay effects with ducking and modulation and includes a quality desktop remote unit (which runs through your DAW) with the design and tactile feeling of the original hardware. Check out the video for more info about this truly amazing pedal and software…
Technical Specs:
USB powered
Supported plug in formats: VST/AU/AAX
Supported operating systems: Win7 or higher, Max OS X 10.10 or higher
Dimensions: 135 x 109 x 43 mm
Weight: 400 grams
Price €199
---
This Eurorack module is a trigger sequencer that uses an ancient algorithm first described by Euklid (a Greek mathematician) about 300 years BC! It uses this euclidean algorithm to generate patterns through 6 channels, each with up to 16 steps pattern length. Check out the video below to see what this Eurorack module is capable of…
Technical Specs:
Euclidean algorithm
6 channels
16 steps pattern length each
Pattern chains of up to 3 channels
48 steps maximum pattern length
Realtime programming and editing
16 memory slots for preset pattern
Selectable trigger pulse width (10 ms / 1 ms)
Rotation / shifting of patterns
Programmable F-Button (functions: Reset, Start, Stop, Mute, Toggle, Rotation, Freeze, Fill, etc.)
Clock and Reset inputs
Trigger outputs for channels 1-6
Power consumption: 0 mA (+12 V) / 0 mA (-12 V) / 60 – 170 mA (+5 V)
Width: 10 HP; Depth: 25 mm
Price: €249
---
What do you think of the hot new gear for November? Which ones have you tried? What else would you add to the list? Let us know in the comments below ?