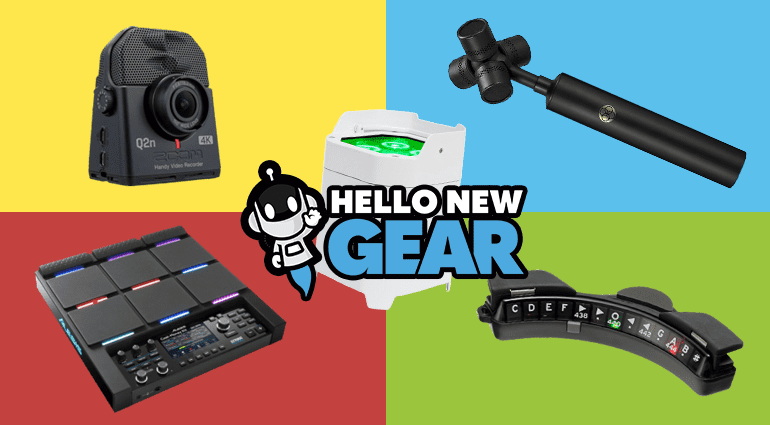 Hello New Gear – December 2018
Hello New Gear – December 2018
? Hello! New Gear here, December 2018 edition. We have some new and exciting products to show you. If you're looking for new gadgets for yourself or your loved ones this Christmas (or something fresh to spend your Christmas money on), read and watch below… ?
---
This new product from Alesis is impressive to say the least. Making beats and performing them live has never been so practical, whether you use the Strike Multipad alongside your drum kit or alone, you're bound to get the audience moving and enthralled. You can use your own samples (via USB key), 5 built-in fx processors, an audio looper, sample any sound you want from external devices (including smartphone), customise the colour of the 9 velocity-sensitive pads' LEDs, and use the unit as a USB / Midi interface. To get you started, its 32GB storage is preloaded with 6GB of content, including loops, drums, percussion and melodic instruments for you to experiment with!
Click HERE for technical specs, more photos and customer reviews
Price: €683
---
This ultra-compact and portable wide-angle camera with built-in X/Y stereo microphones is the perfect tool for recording your rehearsal, jam session, on-stage gig or even for podcasts and audio recording in your bedroom.
Click HERE for more photos, technical specs and related products
Price: €249
---
This little guy is more powerful than meets the eye. It's a battery-powered, outdoor-safe LED "Uplight" with built-in WiFly EXR Wireless DMX, which means that you can switch between its 64 colour macros and 5 modes wirelessly. The built-in kickstand allows you to tilt the light towards a wall or projection screen conveniently and its outdoor rating makes it suitable for virtually any weather conditions. For more details see the video below:
Click HERE for more photos, technical specs and related products
Price: €238
---
This tuner is unique because it allows you to tune your acoustic guitar with less neck pain, all you need to do is look down at your sound hole. It clips onto the inside of sound holes with a diameter of 100 mm, its LED-lit display is easy to see in all lighting conditions and its Piezo pickup is fast and reliable. Ingenious!
Click HERE for more photos, technical specs and related products
Price: €25
---
Røde presents us with the latest in ambisonic microphone technology for capturing 360°, 3D and immersive audio. The NT-SF1 features 4 ultra-low-noise capsules in tetrahedral arrangement and is capable of capturing realistic audio for Virtual Reality, cinema and music which literally wraps around your head! The mic can be calibrated and adjusted to your liking with the free Soundfield plug-in (screenshot above). The video below illustrates what kind of effect the NT-SF1 can capture ?
Click HERE for more photos, technical specs and related products
Price: €1,099
---
What did you think of December's offer of new and exciting gadgets? Are there any others that you would recommend? Please, we'd love to hear about them in the comments below or in the Facebook post! ✍️