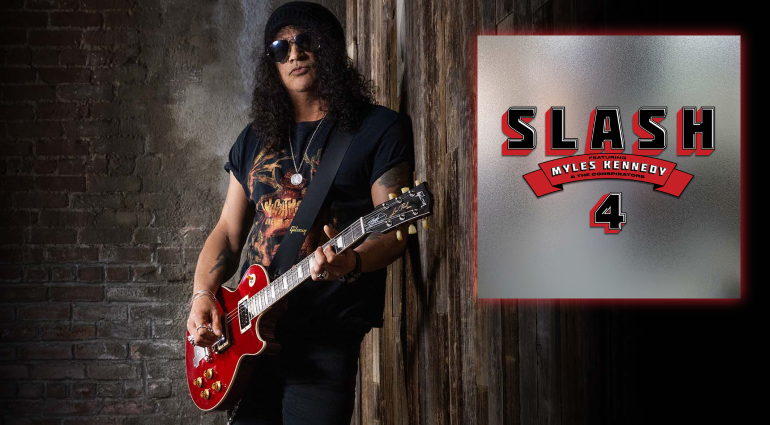 Gibson records releases Slash new album, 4
Gibson records releases Slash new album, 4
Did you know that Gibson now owns a record label? And that none other than Slash, one of the most famous guitarists of all time, is one of the first artists of their roster? 
---
The album "4"
Ten years ago SLASH featuring Myles Kennedy and the Conspirators released their debut album together, and since then have been on a rock 'n' roll ride, issuing two more highly-acclaimed records, and rocking stages all over the world. After amassing album sales of over 100M copies, winning a Grammy Award and 7 Grammy nominations, the induction into the Rock & Roll Hall of Fame, Slash surprises the music world once again.
4, his new album produced by Dave Cobb and released by Gibson Records, is something quite unique in these digital-dominated days: the band (Slash, Myles Kennedy, Todd Kerns, Brent Fitz and Frank Sidoris) recorded the whole record live, capturing that 'magic' that only a full band rocking out can produce. "It has a very spontaneous, fun kind of thing to it, and I love that," SLASH says of 4. "It's the sound of the five of us just jamming together in one room."
Buy / Stream the new album, 4, by clicking HERE
Gibson Records & Limited Edition Les Paul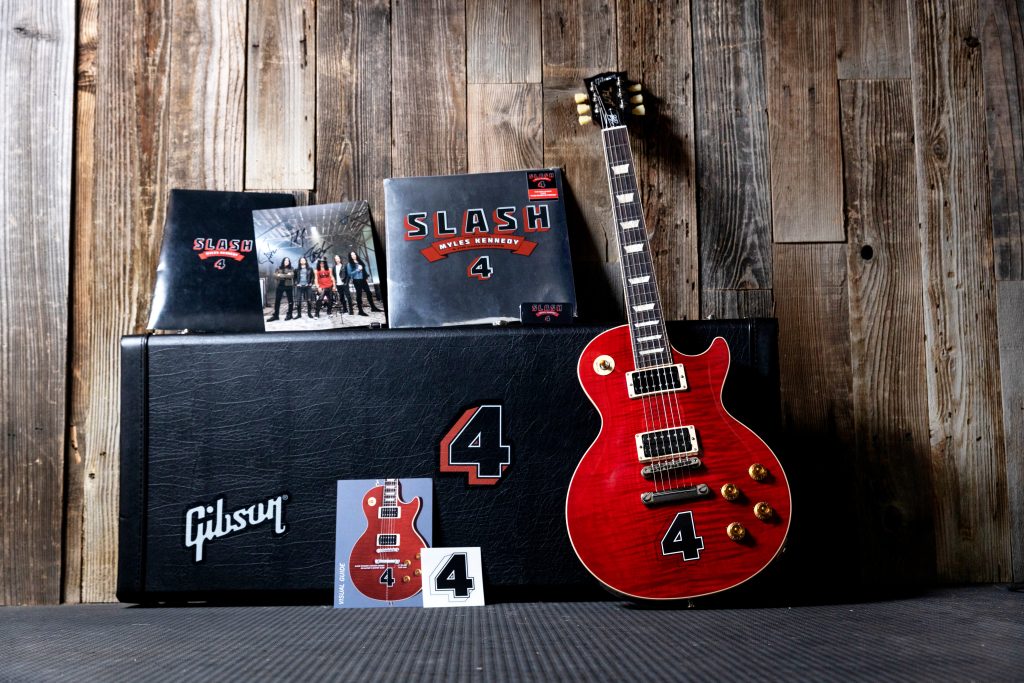 What may sound surprising to you fellow musicians is that the record label that is releasing this album is none other than… Gibson! The iconic guitar brand started its own record label and signed Slash featuring Myles Kennedy and the Conspirators as their first act. Talk about starting off with a blast!
Gibson Records, headquartered in Music City, Nashville was established in 2021 alongside a strategic partnership with BMG. Slash featuring Myles Kennedy and the Conspirators were signed right off, with new artists expected to be signed in the near future.
And when a musical instrument company and a world-renowned artist collaborate, many things can happen… such as the exclusive release of a very limited edition Slash Les Paul Standard 4 Album Edition, which comes in a stunning Translucent Cherry. Only 250 models will be made worldwide, and we got 4 of them that you can buy by clicking on the link below 😉
Included with the guitar are a custom hardshell case, a '4' sticker for the Les Paul, the vinyl copy of the album, 4 guitar pick tins and a signed band portrait.
Find more Slash signature instruments by clicking here
---
Did you listen to the record yet? What do you think of it? Leave us a comment!