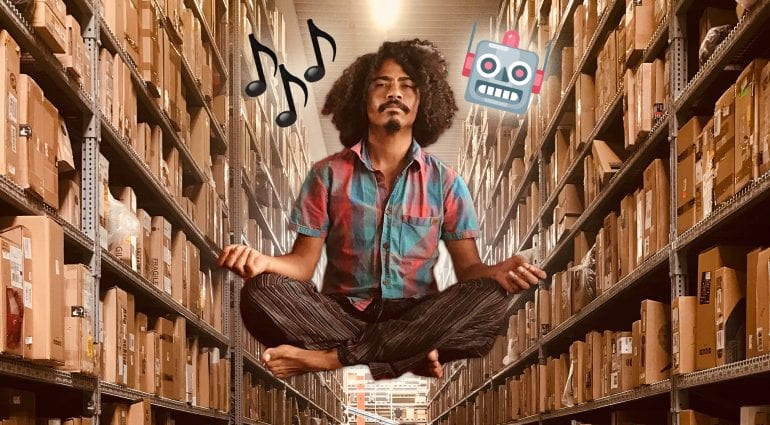 Frederik's Visit #3 – Behind The Scenes of Thomann
Frederik's Visit #3 – Behind The Scenes of Thomann
Our full-time musician / busker friend Frederick just can't get enough of our shop in Treppendorf and its staff members. If you don't remember, this Madagascar-born Dane took the initiative in 2017 & 2018 to write 2 inspiring stories about his first two visits to Treppendorf. We were so touched that when he came a third time he got the full, behind-the-scenes tour and, whaddayaknow, he once again wrote about his experience. We hope you enjoy his words…
Frederick Konradsen is a full-time musicians, busker, music teacher and theatre actor who tours the world and spreads smiles through his songs and positive attitude.
☮?❤
---
What follows is an account of my meeting with the Thomann Family. With this, my third visit to Thomann Town, I had decided to take a look under the hood, and see the inside of Europe's largest music store.
There he was Charles, head of the French Connection at the Thomann marketing department. After a brief cultural ritual of kissing and "Je m'appelle Frederik", he asked me: "So, where is the cameraman?" To make a short story even shorter, I went: "Not coming". Instead I made him volunteer for the job.
We headed up the road from the shop, and entered the first warehouse. It was massive, and at any moment I expected to see John McClane pass by on a conveyor belt, ready to beat up bad guys.
Speaking of cool dudes, I kept seeing semi-nude pin up boys, hanging on posters at various workstations. An expression of gender equality in my book. Go girls! And boys for that matter…
Just before my breathless staring at the pin up boys got awkward, Charles said: "We must look out for the forklifts, they might kill you". My first three thoughts were, "Why are they not looking out for me?" "How many casualties this year?" and "Not a bad epitaph: death by forklift". I asked about the casualties and the answer was zero.
I knew that the warehouse employed several robots, and I was looking forward to meet the Terminator T-1000, after it's failed attempt to crush the human rebellion.
Before that manifested itself I ran into Johannes. Also known as Nelson. His parents could not agree on what to call him, so instead of getting into a fist fight, they decided they would both chose a name. That has caused some confusion in and around Bamberg. A perfect example of the Bruce Wayne syndrome. Are there two people or just one? Just as Bruce Wayne is Batman, Johannes and Nelson are indeed the same person(s)! You see, now I am confused, is it person or persons?
Johannes, being my brother from another mother, of course also plays music. And it must indeed be inspiring to be surrounded by all those instruments all day long. On whether or not Johannes dons a cape every night, and fights crime in and around Bamberg, I shall not comment.
Finally, the robots!
The first robot I met basically tried to kill me. I am currently working on the production of a calendar with photos of me hanging out with robots, Chippendale style, you know. I see an automatic conveyor belt with footprints on it, and that's all the encouragement I need. I take off my shirt, hand my camera to Charles, and before he can say: "You might die" I get on the belt, and the crazy thing just takes off. In a few nano seconds, I am pre-packed, sealed, fumigated and labelled to be shipped to a guy named Gert in Holland.
Luckily Charles – head of marketing, pro bono cameraman and now my personal hero alongside both Nelson and Batman, seeks out the bouncing screaming cardboard box, and saves the day.
Later I see a sign, warning of such occurrences, only it was not addressed to me personally…
More robots, and this time I keep my distance. There is a security screen, and I am pondering whether it is to keep me from getting to the robot, or stopping the robot from getting to me. After my previous encounter I have my doubts.
Moving on to the International Call Center, a hybrid between Google and Woodstock. And I don't mean in the sense of autonomous vehicles mixed with a heavy dose of acid. More in the sense of a young dynamic crew, good vibes and a guitar in every cubicle. And I bet the manager can be called "dude".
Speaking of which, I meet the managers, and I am offered a job within seconds. Denmark being a small country of only 28 inhabitants, who all for some curious reason play music and buy their instruments online – is indeed an untamed market. And Thomann needs a dude to reply emails to the other 27 people. Which I would love to. Only problem is, I would have to show up everyday, and live somewhat in the countryside. Having spent my youth in the countryside, I am saving that for retirement. So in about 30 years I might show up at Thomann, and say : I am that dude from before, got a gig for me? Only to be greeted by the T-1000 telling me: "Sorry, the position is occupied by my third cousin T-1003".
To any of the folks out there who speak Danish, or don't speak Danish, there's a position open, and you will be joining a young vibrant community. A lot of the employees live in Bamberg which is a 20-minute drive from Thomann in Treppendorf, where I am sure the Thomann crew rocks out. ??
We look up Mr. (Hans) Thomann, who is currently out of the office. I eye an opportunity to sit in his chair. That's a no go, due to the fact that Mr. Thomann while chilling broke the back of the chair. That is both an exhilarating and disturbing fact. Great to know that the head of Europe's most successful music store and leader of the Free World, relaxes enough to break chairs. At the same time it is sad, that the chair manufactures of 2018, cannot keep up with the demands and needs of their clientele.
We make a stop at the cinema, where tonight's poster says: Terminator 2: Judgement day.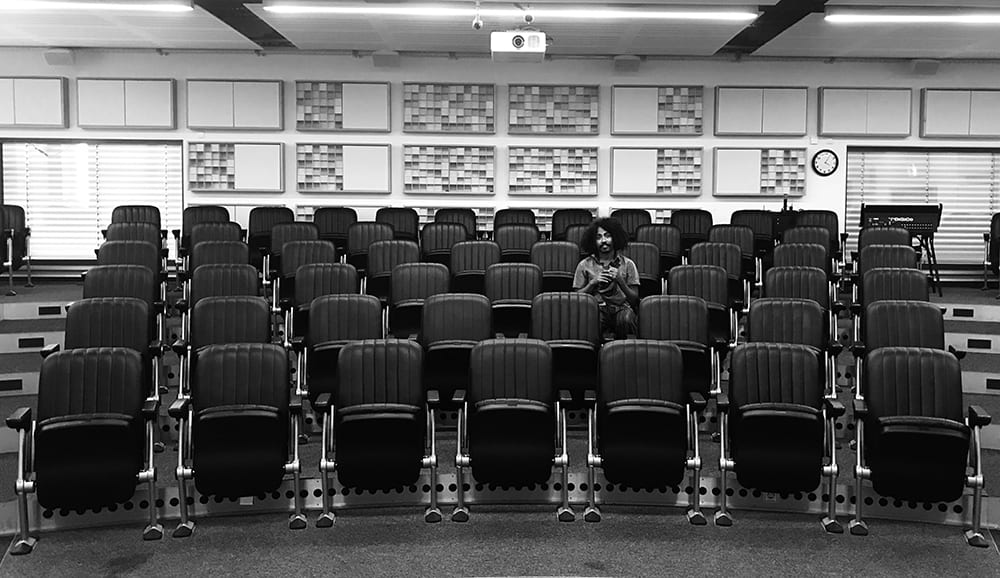 Then it's on to the hospital – designed and named such- since this is where they take care of the injured instruments. We check out the guitar workshop and the tuba room. I suspect the TubaMeister doubles as a ninja, when not tubing tubas. His tool wall looks a lot like something your average neighbourhood vigilante would have in the basement.
Twelve rounds of shadow-boxing where I lost, a brief meditation on the ugliest sofa my guide has ever seen, a walk down memory lane, and then I finally get to meet Mr. Thomann.
I consider him up there with Santa Claus, and I am a bit stars-truck. As you should be when meeting the boss of a major company where you don't work.  I simply start talking and I think I am using too many words. Since Mr. Thomann – being the down to earth "dude" he is – does not have a security guard to deal with situations like this, he does the only right thing. He offers me free food, and hands out a dish containing sandwiches and cake. I seize the moment and the cake.
As I exit the building with cake in my moustache, Charles and myself decided to skip the whole kissing routine and opt for a good old handshake.
That was another great day in Thomann town, where I had a good time hanging out with all sorts of heroes and robots and such.
???
---
Let us know, in the comments, what you thought of Frederik's third visit to Thomann. Have you had any similar experiences in Treppendorf? ✍
⭐ Don't forget to check out Frederik's website (click), Facebook Page (click) and YouTube videos (click)! ⭐