E-Drums: What to consider when buying some?
E-Drums: What to consider when buying some?
There are many conflicting opinions about e-drums. Some of them are dusty prejudices, some of which date back to the rudimentary beginnings of e-drums 50 years ago. But electronic drums have undergone such an immense development that they have long since grown into instruments to be taken very seriously. For interested beginners, those who like to experiment and die-hard fans of e-drums, here are some aspects you should look out for when buying an e-drum. 🥁
Criterion No. 1: The range of application
As with all other instruments, higher requirements with correspondingly integrated high-end features also drive up the price of an e-drum set. The entry level is by no means expensive; but the perfect, profit-oriented equipment requires a somewhat deeper reach into your pocket. In order to discover the most affordable and suitable e-drum set for you, you should first consider whether you just want to experiment a little, get started cheaply or work with it in the long term.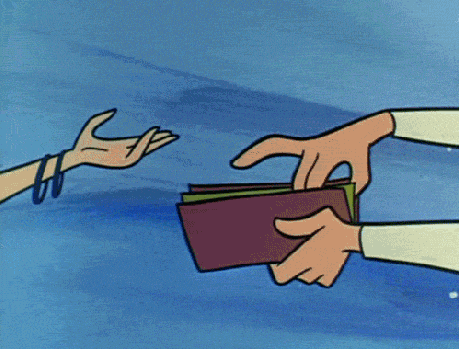 Criterion No. 2: Space requirements
Should the e-drum replace or complement your acoustic set, should it only be used for low-volume practising at home or possibly be a mobile solution between home and rehearsal room? It is easy to understand that an e-drum requires less floor space than a natural set. The same applies if the electric drum set is to be taken into the rehearsal room. Fold it up, put it in a case or gig bag, tuck it under your arm and off you go. Try this with a full-blown acoustic set… Even if there is simply not enough space at home, the e-drum is the choice par excellence.
Criterion No. 3: The Look on Stage
Some people literally crave classic acoustic sets and can't be dissuaded from traditional shells. But music changes all the time, and this applies to the equipment as well. E-drums are characterised by their modern and contemporary look. It's about the fine line between tradition, nostalgia and the future. The special look of e-drums offers opportunities and should be understood as an addition to the stage presence of a band – not as a aesthetic downgrade. And: E-drums can certainly look like acoustic drums: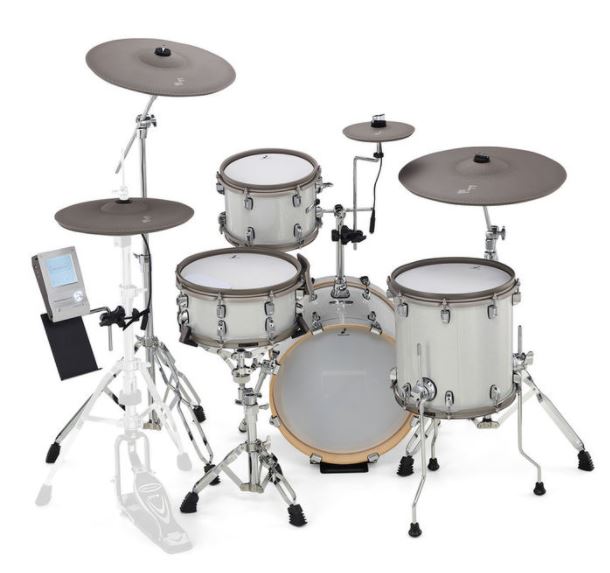 Criterion No. 4: Quality and editing possibilities of the samples
The heart of an e-drumset is and remains the drum module. The fact is that an electronic drum kit can only sound as good as the drum module allows it to. In terms of sound, this applies to the quality, resolution and variety of the integrated samples and sounds, as well as the possibilities to intervene sound-wise via the EQ and the effects section and to edit the user presets in real time.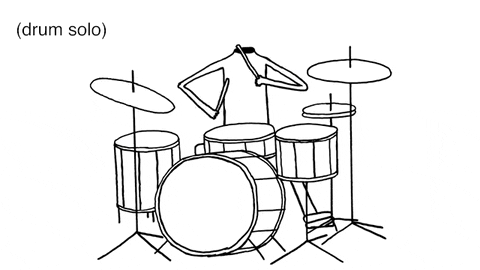 Criterion No. 5: Connections, import and export options
Popular e-drums are equipped with drum modules that offer a wide range of playback and output options. For example Bluetooth interfaces via which practice songs can be played from mobile devices, USB connections with which the module can communicate with the a computer, and also MIDI in and MIDI out. Connections for additional pads and direct outs are also useful. We don't need to mention the headphone output and the master output separately. But we do need to mention the extensive memory space, on which you can save your own sounds and grooves – for example on an SD card. This, too, makes the journey of discovery with the e-drum kit limitlessly multifaceted.
Criterion No. 6: Comfortable operation, structured menu navigation
The menu navigation should be as clear as it is self-explanatory, so that you don't get hung up on any question marks. Contemporary drum modules have a reasonably readable display on board, even better if they also have backlit faders. But don't forget: Even without this high-end equipment, it's still possible to enter the world of e-drums.
Criterion No. 7: Material of the pads – rubber or mesh heads.
The signal has to come from somewhere. The sound in the drum module is triggered by the percussion impulse on the pads. Price-conscious beginners will usually start with rubber pads. An upgrade to the rubber pads are the so-called mesh heads, which can be imagined as net-like drum heads. Mesh heads are also a quality criterion for this reason, especially as they enable drumming that is easy on the joints, with a more authentic feel and natural skin-like rebound.
Criterion No. 8: Number of zones in the pads
One strong argument for a quality e-drum set is the number of zones of the pads. In the different models you will find pads in mono, stereo or 3-zone versions. The more zones the pad has at your disposal, the more variations of sounds you can play on it. Bass drum pads are usually mono whereas cymbal pads should register hits over the entire surface. Pads with several zones also require a well-developed playing technique. Features only become useful when they can be used and applied. It's a question of how much money you want to spend and when.
Criterion No. 9: Triggers glued on or attached to the hoop
The triggers can be attached or mounted in different ways. The cheaper option is to glue on triggers with the further advantage that they can be positioned individually. On the other hand, triggers that are attached to the tension hoop offer a higher dynamic. In addition, they are protected from accidental impacts by the cover.
Criterion No. 10: Stability of rack and other components
It goes without saying that the drum rack must be solid and stable. After all, it has to withstand your sporting blows without giving way. The same applies to the mounts and stand material for the cymbal and drum pads as well as the screw connections. How truly important this is, however, is a popular subject of debate among drummers.
And here are a few suggestions among which you might discover your favourites.
We wish you a lot of fun with e-drumming. Hit it!🤘