Brass and woodwind instruments: our gift suggestions
Brass and woodwind instruments: our gift suggestions
Brass instruments offer a wide array of cool instruments and accessories, and it is an honour for us to showcase some of them to you in this blog. If the only thing
that comes to mind when you think brass is a trumpet or a tuba, it's possible that you've recently not been thinking outside the box enough. 😉 But fear not! We're
here to give you the remedy by inviting you to poke around our webshop.

---
– Brass and woodwind instruments & accessories –
---
This music stand will accompany you throughout your entire life. It will stand beside the young musician as he grows and is also ideal for fully-fledged players. The music rest is unbreakable and the overall construction highly sturdy. → See more music stands here!
You'll be pushed to find anything lighter! With this model weighing in at 700 grams you might be tempted to think the slightest gust of wind will cause you trouble. But think again! It is very stable and is ideal for touring.
→ See more music stands here!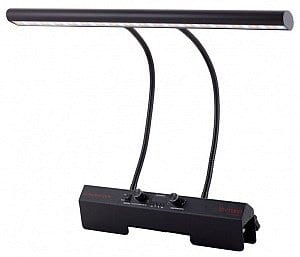 Thomann LED Music Stand Light Pro
We'll call this one an smart lamp! It adapts itself to the surrounding light, can emit several different hues of white, has a dimmer and will light up all of your notes without a fuss. → See more music stand lamps here!
K&M Sheet music and instrument tray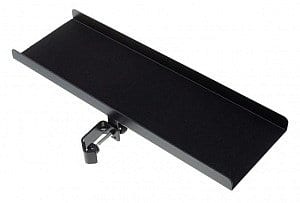 This handy tray gives you a place to put your oil, mouthpieces, tuner and more. You can simply screw it to your music stand, and with it weighing just half a kilo you'll barely notice it. → See more stands here!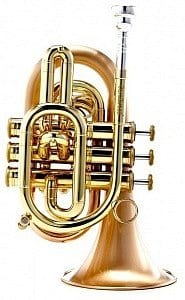 Carol Brass CPT-3000-GLS-Bb-SLB
This super snazzy pocket trumpet will accompany you everywhere, and thanks to its compact size it will fit snugly into any pocket. There's nothing to complain about  when it comes to sound – it's simply a value for money whopper!
→ See more pocket trumpets here!
Alongside practising, musicians can also do a lot of good for their playing with a tool like this. It trains your lungs and your breathing capacity, which will have a noticeable effect on your playing. → See more practice adapters here!
This herb-based moisturising stick helps to prevent swelling and ensures a speedy recovery for damaged lips.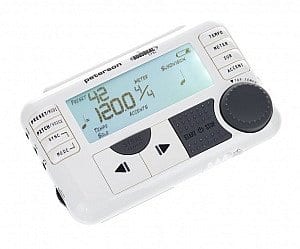 Peterson BBS-1 Metronome
With this metronome and its wireless synchronisation capability, you can connect several devices to play in time with one another.
→ See more metronomes here!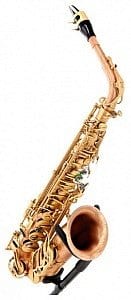 Thomann MK IV Handmade Alto Sax
This handmade alto sax dazzles with it's fantastic workmanship and elegant looks. The body is made of copper and the keys of brass, and to protect the instrument it is
delivered in a sturdy softbag.→ See more alto saxophones here!
This lightweight mute allows you to practise at a greatly reduced volume. The intonation is preserved and your neighbours will be even fonder of you!
→ See more practice mutes here! → See more practice mutes here!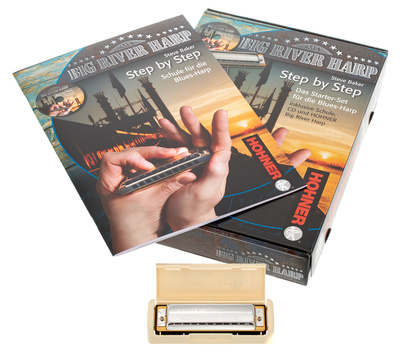 Hohner Step by Step – Big River Harp
With this set, your first steps in harping will be a walk in the
park. A Big River Harp MS is included and the DVD explains step by step what you need to know. → See more harmonicas here!
This saxophone holder offers the ideal support for holding your instrument in maximum comfort without straining your neck. I'd call that a pretty good idea!
→ See more straps for woodwind here!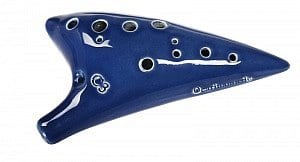 Thomann 12H Ocarina Blue Sweet Potato
It's not only Zelda fans who should be checking this out! This real ceramic ocarina is a real pleasure to play – for professional players too. → See more ocarinas here!
Looks like a toy, but sounds like a real alto trombone. And it is exactly that – only made of synthetic materials. It can be played just like other trombones, the difference being that it is lighter and more affordable.→ See more trombones here!
The Xaphoon sounds like something between a saxophone and a clarinet, but also has some similarities to a flute. If you're the kind of player who likes to try out new things, this is what you're looking for this Christmas.→ See more Xaphoons here!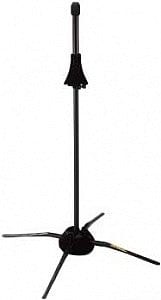 Hercules Stands DS420B Trombone stand
If you need to put down your instrument, it should be safe and secure. This trombone stand can be stored in the bell during transportation and offers a secure support for your trombone when set up.→  See more stands here!
This practice tool is ideal for training your breathing technique as a flautist. Beginners as well as advanced players can get more out of their instrument by using this.
This case is perfect for transporting and storing your reeds. With its Vitalizer Pack, humidity is kept constantly at the optimum level.
→ See more cases here!
Protec Multiple Mouthpiece Pouch
With this pouch you'll have all your mouthpieces safely in one place and always at hand. → See more cases here!
Thomann Solist Panpipes Alto G'- G""22
Panpipes are enchanting with their unique sound, and offer beginners a great sense of achievement as well as loads of fun.
→ See more panpipes here!
Thomann Dust Bag
No instrument deserves to gather dust. Even if it usually only stands around for two or three days unplayed, you ought to protect it with a dust bag. → See more cases here!
The team of the brass and woodwind department wishes you a Merry Christmas