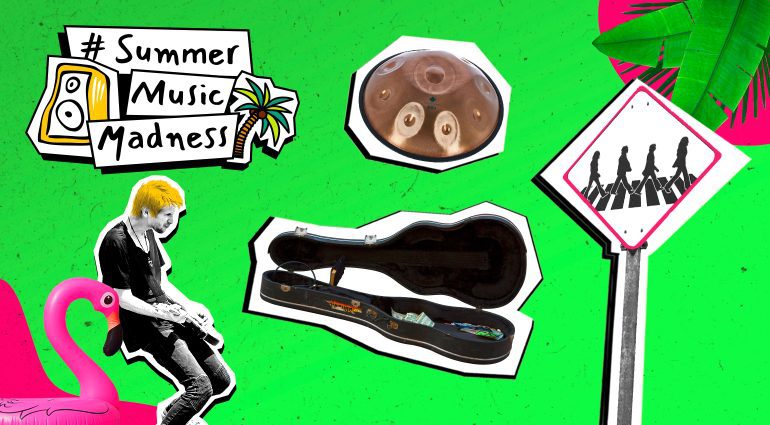 8 Street Musicians: Goosebumps & Special Gear
8 Street Musicians: Goosebumps & Special Gear
The top street musicians captivate their listeners with precision and creativity and, of course, their equipment play a major role too. Summer is the high season for this art. It's interesting to see the equipment with which the often multi-tasking artists tackle the matter. These include the traditional and, not infrequently, the unusual. Have fun with another blog article on the subject of #SummerMusicMadness.
---
1. Unbelievable, not your normal street musician
At first glance, you might think this guy is just a normal street musician, maybe not even that, it could also be an unassuming passer-by with some weird bowl in his hand. And then he starts his percussive playing on the singing bowls with such perfection that you suddenly can't look away. In fact, he deserves a lot more attention, see for yourself:
2. Multi-instrumentalist with Loop Station
The equipment of the multi-instrumentalist Reinhardt Buhr is significantly more elaborate and complex. With electric cello, guitar, tambourines, cajon and other percussion instruments, he plays truly fantastic music, insane sound creation via a Boss RC-505 loop station. The musical structure becomes more and more complex with the didgeridoo and vocal effects. No wonder that more and more passersby stop. Reinhardt obviously dominates the street perfectly as if it were a classical music theater.
3. The peace pianist among street musicians
Davide Martello is no less than a hero among street musicians. Davide travels with his grand piano wherever he can comfort others with his music. He plays in front of hospitals, he makes his piano music resonate in crisis areas such as Afghanistan or at the Polish-Ukrainian border crossing in Medyka. Martello always carries with him a message of comfort. The pianist literally travels around the world and has converted his piano into a "portable piano" for this purpose.
4. The street singer-songwriter
This street musician makes his way into the hearts of passersby with his goosebump-inducing music. His voice is impressive and his charisma too. He has no special equipment, only an acoustic guitar, which he amplifies with a portable amplifier, a microphone and a small music stand. He doesn't need anything else to get the attention he deserves with his performances.
5. Saxophone and percussion in NYC
Let's take a trip to the city that never sleeps: New York. Just around Union Square we discover two musicians playing with incredible enthusiasm, one on the baritone saxophone, the other on the drum. The saxophonist is not content with just playing, he also dances quite extravagantly at the same time. The video has been going viral for quite some time – but it's always nice to mention them. The duo is called Too Many Zooz, don't miss them!
6. Another performance from NYC: Funky Town
In New York stations, music is always on the agenda. With Lucky Chops NYC, a whole brass band comes together and creates a beautiful atmosphere. Trombone, trumpet, tenor saxophone, baritone saxophone and sousaphone. And check out "Funky Town", an unstoppable groove…
7. Morf – Acoustic Guitar and Pedals
Followed by Morf, a multi-talented artist who mixes traditional tools with more innovative equipment. The guitar rests on his legs as he taps and incorporates numerous percussion techniques along with pedals and loop stations. Morf uses various spatial effects and loops from his pedal board and keeps the beat with a stompbox. Can they still be called street performers when they play at such a high level? Yes of course! Each musician is unique in their own way!
8. The human drum machine
Dario Rossi is very successful as a street techno drummer. But instead of playing techno events or rave shows, he sits right in the pedestrian zone of Florence with his special gear. And more and more curious people gather around him to get carried away by his rhythms. You'd think he learned the techno beat in his mother's womb. He plays pans, rattling cymbals, bongos and more.
---
And you?
Are you a street musician? Tell us about your experiences and what equipment you use.