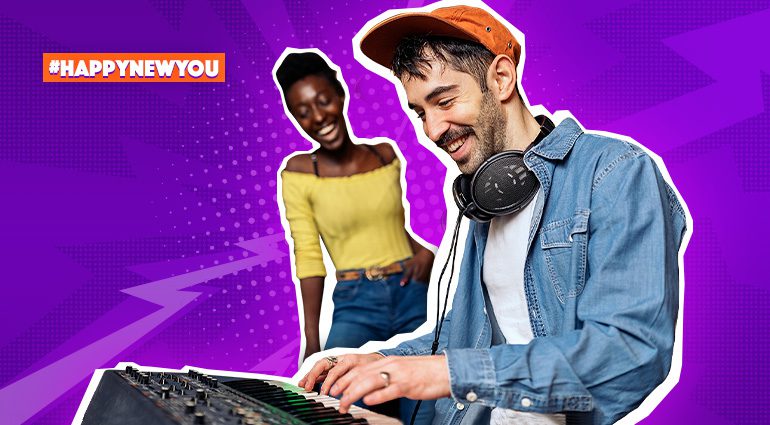 5 Reasons Why Musicians are Better Colleagues
5 Reasons Why Musicians are Better Colleagues
New year, new you: do you already have good resolutions in mind for 2022? We have an idea: How about looking for a new job… with us?! A little breath of fresh air in your life certainly can't hurt. The wind in Treppendorf smells damn creative and musical, an atmosphere that you might fit into. You will undoubtedly meet pleasant colleagues in this musician ambience. 🤘
---
1. Inspiring & enthusiastic
Nobody said that musicians were completely normal. Rather, musicians are a little crazy and they know it. Constantly looking for something special, for the incomparable moment, for the sonic or technical kick. Musicians usually live with and for their passion for life. And that's one thing everyone in the huge music community shares. Musicians simply cannot help but live their creativity on the job. And that's good. That's exactly how it should be.
2. In love with details, receptive & sensitive
Musicians pay attention to the smallest details. Often they do not need to look at all, instead they intuitively feel their way into the situation or their counterpart. No wonder, after all, this is the musician's own claim, whether at home, in the studio or on stage. And they constantly strive for perfection, the optimal sound, the inimitable groove, the unsurpassable sound experience. And so musicians also have a sensitive feel for their colleagues. Everyone helps each other. Whether in technical questions or in front of the customer. Musicians don't let each other down!
3. Accentuated harmony from musical experience
Musicians know from experience that a chord can only sound good if all the strings are on the right track. And that no sound is more important or less important than the other for harmonious cooperation. The staff is also orchestrated with flat hierarchies. Regardless of whether the musician colleagues are set as subcontra-C, as concert pitch A or as two-stroke C#: All of them are seen and heard; all see and hear each other and plays in what is probably the largest orchestra in the world! In the video you get to know a few potential colleagues:
4. Musicians think internationally and without prejudice per se
Tolerance is important for musicians, but at the same time not really an issue because it is completely natural. Music is and will remain the language that transcends borders. The only exclusion we can think of is a humorous one between lovers of different genres of music 😉 Exclusion based on ethnic origin or religious affiliation, because of gender, sexual attitude or other uniqueness cannot exist among musicians. Musicians advocate equality and equality in a positive sense, for example in their song lyrics.
5. The rulers of the coffee machines
From an evolutionary point of view, musicians are urgently dependent on the most important staple foods. At the top of the list: Coffee! 😍 They are likely to be reborn as nocturnal animals in the next life. Without the hot lifesaver, they would be lost. But it's only good if you can rely on colleagues, operate the most complex software and carry out huge stage structures. They tickle fast solos from electric guitars or bombast sounds from their workstations. And then a well-deserved cup from the coffee machine. 👌
From behind the scenes
By the way: When the Thomann colleagues report from their own experience, they repeatedly emphasize the relaxed, friendly and downright familiar working atmosphere. It is this extraordinary atmosphere with a lot of creativity, a good dose of humor and the feeling as if you are working with good friends. Everyone has their own individual skills. And through this concentrated uniqueness, a large whole is created at eye level.
Go straight to our job page and apply
So what are you waiting for? If we have piqued your interest, take a look at our job page right away. Regardless of whether you are a musician or non-musician: The range of job offers is broad, from retail salesperson to system administrator and many more!
Apply now, send an email to jobs@thomann.de, you will receive all vacancies and information about working at Thomann under this link! 👇
---
We are looking forward to your application. Maybe you will soon be playing in the Thomann Band! 😀