5 Memorable Oscar Moments Involving Musicians
5 Memorable Oscar Moments Involving Musicians
We've all seen the Oscars, or Academy Awards, call it what you will, a ceremony of dressed-up actors and actresses, directors and producers. It drags on for way too long usually with only mildly entertaining moments. The part about soundtracks, film scores and music is cool though… People with music on the brain often think in rebellious ways, let's see what they got up to in the history of the Oscars…
---
#5: Cher dresses "differently" (1986)
Cher shocked some people, including her boyfriend at the time, with a shocking outfit at the 1986 Academy Awards. In her own words: "I had the idea mostly because the Academy didn't really like me. They hated the way I dressed and I had young boyfriends so they thought I wasn't serious. So I came out and said, 'As you can see I got my handbook on how to dress like a serious actress.'"
#4: A duet that ruined Allan Carr's career (1989)
Rob Lowe & Snow White performed an opening song and dance number at the 1989 Oscars which bombed terribly and caused the show's producer, Allan Carr (who also did the film Grease), a lot of trouble. Hollywood shunned him from then on and he spent the next decade in relative seclusion until his death from liver cancer in 1999.
#3: Björk lays an egg (2001)
The wacky antics of Icelandic experimental pop sweetheart Björk are never forgotten. At the 2001 Academy Awards she came dressed in a dead swan, well not literally, it was a dress that looked like one. The best part was when she laid an egg on the red carpet. In 2015 the dress was the centrepiece of an exhibit at NYC's MoMA.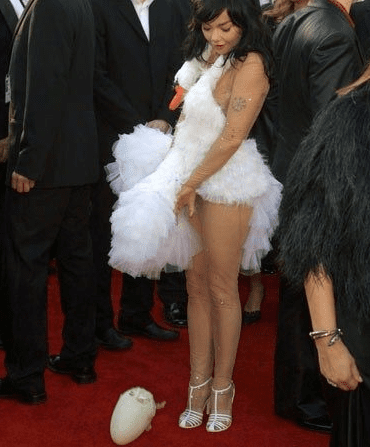 #2: Elliott Smith's performance of "Miss Misery" (1998)
It wasn't a show stopper or anything spectacular but what was shocking, especially for his fans and the alternative / indie world, was that this beloved melancholic indie star made it to the Oscars. His songwriting is spectacular, we are not undermining Smith's talent and taste, but his timid and humble nature during his performance was undoubtedly the most touching part of the 1998 Academy Award ceremony. May he rest in peace.
https://youtu.be/pIccE3CUNkM
#1: Lady Gaga & Bradley Cooper "in love" on stage (2019)
Their heartfelt performance of "Shallow", and the "looks of love" they gave each other during that performance, sparked rumours on social media that the two were in love or having an affair. Don't these gossipers know how showbiz works? Well, Lady Gaga, in an interview with Jimmy Kimmel a few days later said "social media, quite frankly, is the toilet of the Internet". Nicely put. Oh, and she also won an Oscar for "Shallow" in the film "A Star is Born".
---
Are there any other music-related Oscar moments you'd like to share with us? We're there are plenty, the list above has only scratched the surface. Please let us know in the comments below or under the Facebook post!