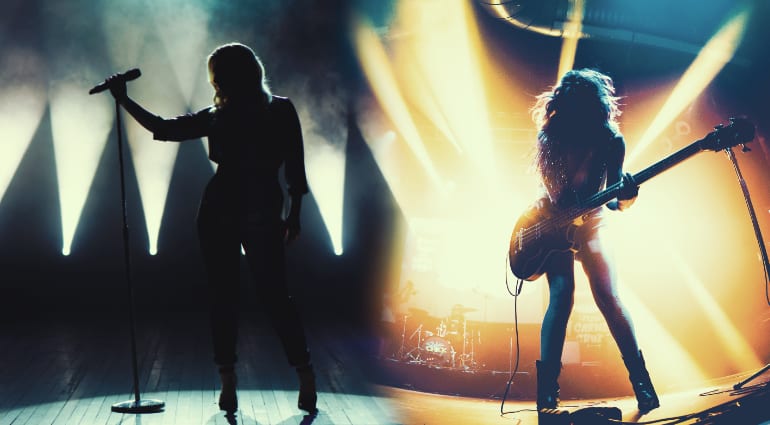 Today is Mother's Day and we want to celebrate 5 women who, in addition to the full-time work of being loving mothers, are international stars!
---
Alanis Morisette
Skinny trousers, leather jacket, grunge accessories and of course her electric guitar: the Canadian-American rocker didn't lose her rebellious girl look and, at the age of 38, she defined herself as a "sticky" "rock n' roll" mother!
"I got the urge to write songs when I was in my fifth month of pregnancy, but I didn't have enough energy to complete an album. I waited for Ever Imre to be born"
Postpartum, however, was not the best time to devote herself completely to making a record, says Alanis: the singer claims to have "split" as a parent and artist, transforming the first floor of her home in Los Angeles in a studio to record her songs, including "Guardian" (song dedicated to her eldest son).
---
Adele
The British star of "Someone Like You" has become a mother at the peak of a very successful career, after breaking numerous records!
The early days were not easy at all: the singer had to overcome a postnatal depression that put her career on hold.
"As far as I knew, postpartum depression meant not wanting to be with the baby, being afraid of hurting him or being unable to be a mother: for me it was the complete opposite, I was obsessed with my son. I didn't feel right, I thought that having a son had been the worst decision of my life. I said to myself, "I have to reserve one afternoon a week to do what I want without the baby."

A friend said to me: "Really? Don't you feel guilty? " I replied "Yes, but less guilty than I would feel if I didn't." You become a better mother if you take care of yourself as much as you care about your baby.
To date Adele defines herself as a serene and overprotective mother that fully enjoys the concerts and touring life. Adele obviously has a nanny, who serves to help her and not replace her entirely. In addition, Adele fiercely defends her privacy: "I will f***ing fine everybody that tries to get close to my son".
---
Pink
The famous pastel pink–haired singer is a modern mom with a very open mind!
Barely at one year old, her daughter Willow started traveling with her around the world "That way she won't grow up spoiled and understand how wonderful her mom's work is". The singer defines herself as a protective mother, rebellious yet with her feet on the ground, mature and self–conscious.
During a concert in Philadelphia, in the middle of the performance, the sound of a crying baby from the audience attracted her attention: she immediately stopped singing and, after discovering that a little girl was crying, she asked her why she was so sad. Turns out that the little girl was frightened because her mom was arguing with another woman. To confort her, Pink made her bring some snacks and a stuffed animal that fans had given her.
Pink will always remain a rebellious rocker with a big heart and, like all working mothers, a woman able to fulfil her artistic commitments while being an awesome 24/7 mother.
---
Amy Lee
Motherhood has definitely changed her life, says the voice behind the smashing hit "Bring Me to Life": her creativity is now strongly influenced by being a mother.
"I always thought that being a mother could also be very hard for an artist because there would be a real risk of putting aside one of the two components forever: on the one hand the career, on the other the family and knowledge of having to be present at all times. For this reason, before becoming a mother, my biggest fear has always been that of not being able to reconcile the two aspects in my life. "

During pregnancy, something completely unexpected happened: a constant flow of inspiration that left me nothing but the need to compose all day. "
"Synthesis" was the result: the record, said the singer, is the result of numerous sessions in the studio in which she fearlessly poured everything she had in her mind on the table.
---
Sharon den Adel
Sharon den Adel, front woman of Within Temptation, faced a) a world promotional tour that touched almost all continents and b) the filming of a live DVD in the middle of a pregnancy!
Sharon is undoubtedly a mother full of energy, one who does not give up her rockstar career but who loves at the same time enjoying the family more than anything else in the world: during the tours it's her husband, Robert, (founding member and recording guitarist of Within Temptation) to take care of the children because, for obvious reasons, he is the one of the two who is able to step down.
For this reason Sharon does not hesitate to spend every free moment with her children, which she often brings with her during concerts.
---
Article originally written in Italian by Elena P. 
---
? Tanti auguri a tutte le mamme del mondo! ?