10 Unusual Ways to Make Music
10 Unusual Ways to Make Music
Making music: What you'll need first is a voice or an instrument and some skills… or not! Maybe a computer? Yes, but not necessary for some people. The point: There are some really strange ways to create music, you can do it with just about anything or in any situation. Check out this list of 10 ways that we have discovered, they may help you when you are in a creative rut:
#MusicNeverStops
---
10. Using Microsoft Excel spreadsheets
Nerd alert! Yes, you can make music in Microsoft Excel by creating a drum machine or a keyboard directly inside a spreadsheet. Check out the videos below, they explain how. I never knew that such a boring application could be so fun!
9. Using Wind
If you like music created by the power of nature, and if you like music with varied tempo (something we rarely hear these days), then wind-powered music is for you. Check out the video below on how to build a wind-powered music box, it's simple and it's eco-friendly.
8. Using kitchen utensils
You can raid your kitchen and find numerous music-making objects: pots, pans, lids, bottles, wooden spoons, metal cutlery, plastic bowls, etc. Almost everything in the kitchen can make a sound, and there is lots of variety in sound. For others who are less fortunate, they may need to ask neighbours or even dig in the trash heap to find these items, like these kids in Uganda:
7. With (a) balloon(s)
Have you ever tried to use these rubber party decorations to make music? Well, they are full of surprises and they are also good for producing sound effects for video, film or theatre. Try experimenting with them after checking out the videos below ?
6. Using birds & guitars
Say what? Yup, set up a few Gibson Les Pauls, hook them up to amps and pedals, sprinkle a bit of birdseed around and let several birds free in the room. That's what French artist Céleste Boursier-Mougenot did for his 1999 exhibition "From Here to Ear", which ended up being successfully exhibited in various European cities. This type of music is called aleatoric music, which is created through the impetus of chance and randomness, two phenomena that are omnipresent in nature. Very cool idea!
5. While Driving a Transport Truck
For the sake of other drivers and wild animals, PLEASE, DO NOT TRY THIS YOURSELF! One man in the USA tried this: producing music in a DAW on his laptop while driving a transport truck. He was caught doing this when he was pulled over by the police for speeding (he was also caught with illegal drugs in the truck). Luckily no one was hurt, he surely got a fine or went to prison. This is undoubtedly more dangerous than using the phone or changing the radio dial while drive. Be responsible folks!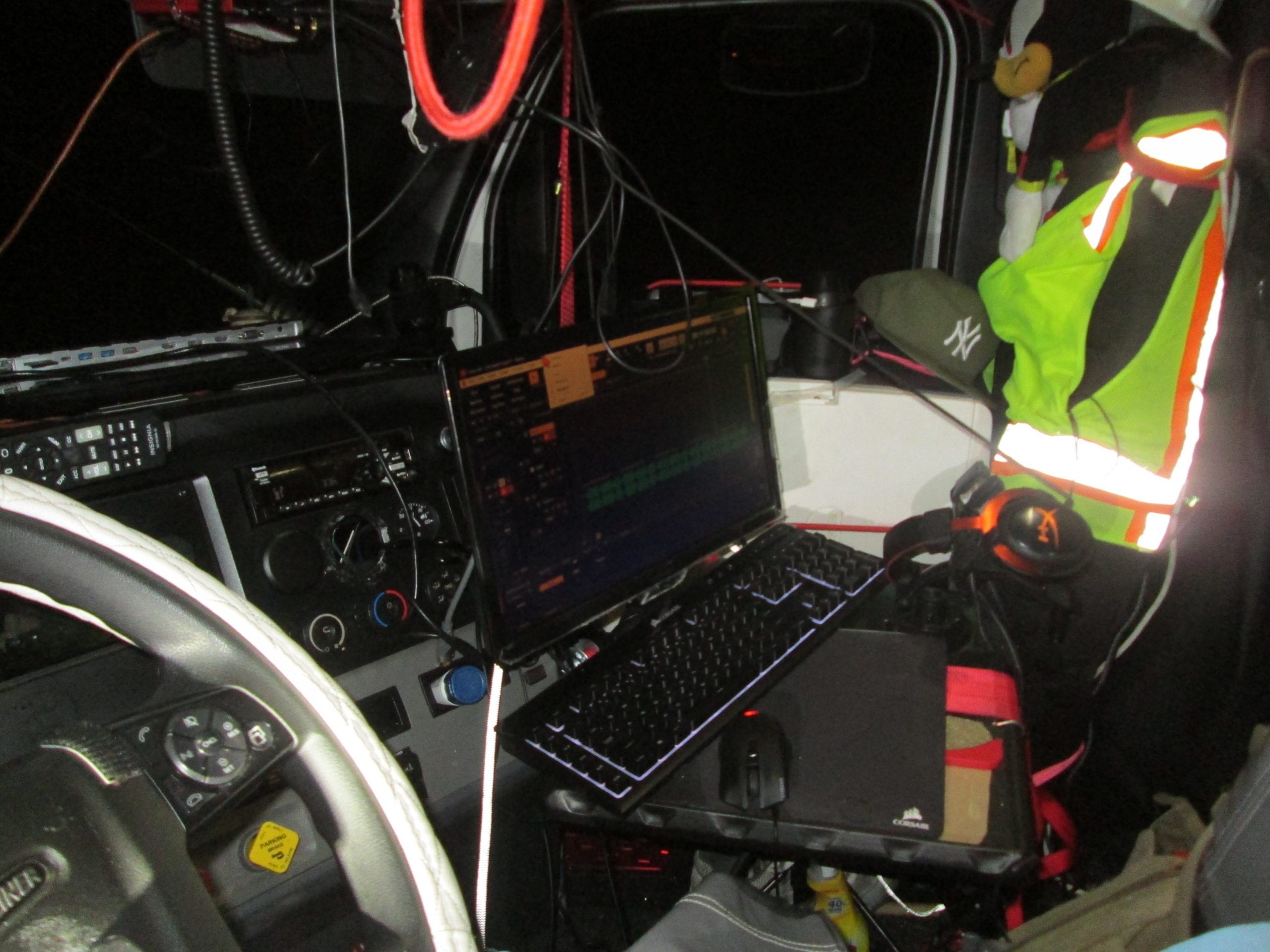 4. With barcodes & barcode scanners
https://www.youtube.com/watch?v=HWhfZk1llUo
Ryoji Ikeda, Japan's leading electronic composer and visual artist, has discovered that barcodes have more uses than just for retail management. This is a new genre of music altogether, barcode music (see video above), and a new activity has arisen from it: Barcode Jamming (see video below).
3. Using a sumo wrestler
That sounds really weird… We're talking body percussion here, three percussionists and one "percusionee" (if that's a word). The unlucky person here is the latter, the one who gets slapped around. But kudos to him, he endures it in the name of art, entertainment and for the love of music! Check out the video below, wow, how does he keep a straight face till the end?? That's Oscar worthy!
2. With 100 Cars
Ikeda again! This time, instead of using barcodes he used various frequencies and octaves of concert pitch A being amplified through the hi-fi stereo systems of 100 cars. This ambitious project was called "A [for 100 cars]" and took place in 2017 in Los Angeles, California and was a huge success…
1. With ice
This topic deserves an article of its own! In Norway, musician Terje Isungset has made it possible, through a lifetime of dedication, research and practice, to make music with ice. He sculpts the ice into either blocks, chimes, bells, wind instruments or even stringed instruments. It's beyond words, the video below, a documentary about ice music, explains it more practically.
---
Do you have your own weird method of creating music? If so please share it with us! We'd love to know all about it or about any other ways that people make music.