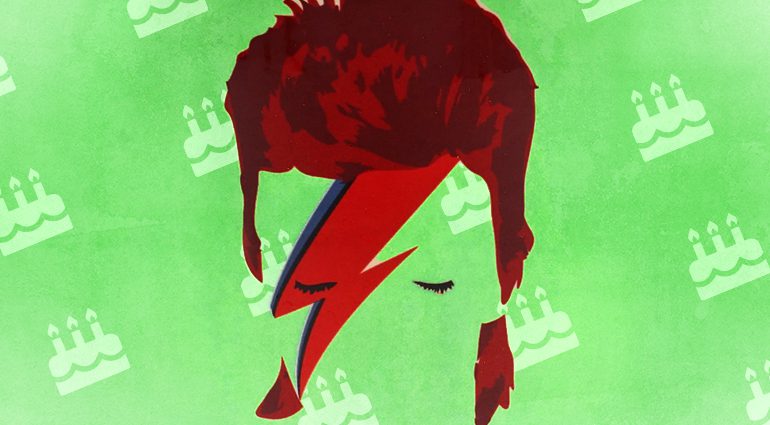 10 REASONS TO LOVE DAVID BOWIE
10 REASONS TO LOVE DAVID BOWIE
David Bowie was a superstar and still is even after his death. Today he would have turned 75 years old. One of the most influential figures in pop and rock, who was able to shape the world of music for several decades. An incredibly versatile chameleon, an eccentric. Happy Birthday Bowie, wherever you are! 🤘
---
1. Young multi-instrumentalist
At just nine years old, his father brought home an Elvis Presley record. Fascinated by his music, he began to play the ukulele, piano, and bass. Later he became obsessed with jazz, specifically with John Coltrane. His mother gave him a saxophone, and he even went to class. However, the rest of the instruments (guitar, keyboard, harmonica and koto) he learned on his own.
2. Precocious on the stage
It didn't take long for him to assemble his first group. At age 15 Bowie founded "The Konrads" with whom he played at weddings and youth centers. The problem is, Bowie got bored quickly. In fact, he was about to quit music when he suddenly debuted with "Space Oddity":
3. Musically "wrong" and ahead of its time
David Bowie was not following the mainstream. He saw no reason to blend into what already existed. His songs were often ahead of its time, a trait he maintained throughout his nearly fifty-year musical career. He always looked to the future: "Tomorrow belongs to those who hear it coming."
4. Revolutionary and founder of glam rock
This Brit, David Bowie, revolutionized the world of music. At first he quietly triumphed and became world famous with his alter ego Ziggy Stardust he became the impressionist personified in pop culture. It created a symbiosis between pop, rock, psychedelia, folk and other styles. The result was an incredible crossover: glam rock.
5. The Berlin trilogy?
For years he lived in Berlin, something that was liberating in many ways for Bowie. Hardly anyone knew him there. Anonymity helped him stay off drugs. He shared an apartment with a certain Iggy Pop and spent some time with Lou Reed. Between 1977 and 1979 he released the considered Berlin trilogy: three already legendary albums: "Low", "Heroes" and "Lodger".
6. David Bowie's androgynous appearance
His often androgynous appearance caused great fascination. His eyes were a different color and it was one of his trademarks. Still to this day, there are those who say that Bowie had a glass eye. Many urban legends around the theme of the eyes. The most successful is that it was an eye injury after a particularly strong blow, which permanently dilated the pupil and irreversibly paralyzed the iris. The right eye was blue, the left was brown.
7. Exceptional singer-songwriter
The melodies and harmonies of his songs are quirky and unconventional. Sometimes this can detract from your talent as a songwriter. At the end of the day his songs are quite fanciful, far from themes such as love. That is why his songs are easy to distinguish from others. As a young man he tried to persuade with humor through lyrics, but it didn't work, he had to go from the futuristic to the philosophical.
https://youtu.be/YoDh_gHDvkk
8. Bowie and Jazz
Bowie was also recognized and respected by musicians especially in the jazz scene. High-level musicians have supported him in several of his projects, for example on his latest album "Blackstar", in which five renowned jazz musicians participated, including Mark Guiliana. They weren't at his orders, but they were a team in which everyone had a lot of freedom.
9. David Bowie didn't take himself seriously
Bowie never took himself very seriously. This statement describes him well: "I'm always amazed that people take what I say seriously. I don't even take what I am seriously." Another way to consolidate Bowie's status that crossed conventional boundaries of image and expression.
10. A pioneer in finance: the "Bowie Bonds"
Indeed, the exceptional outgoing artist has not only pioneered the music world but also the financial sector. Considered the inventor of "Celebrity Bonds", he was the first famous person to bring to the market a financial obligation with which investors could participate in the success of the artist. And so it was that with the "Bowie Bonds" he secured the profits of 25 albums before 1990.
---
On January 8, 2016 Bowie celebrated his 69th birthday, releasing his latest album "Blackstar". Unfortunately the celebrations did not last long, after two days he passed away after years fighting cancer. 🌹
---
"I'm not a prophet or a stone age man, just a mortal with the potential of a superman. I'm living on." – David Bowie
---
Your feedback! ✍
Are you a Bowie fan? What is your favorite album or song? Leave your answer in the comments!