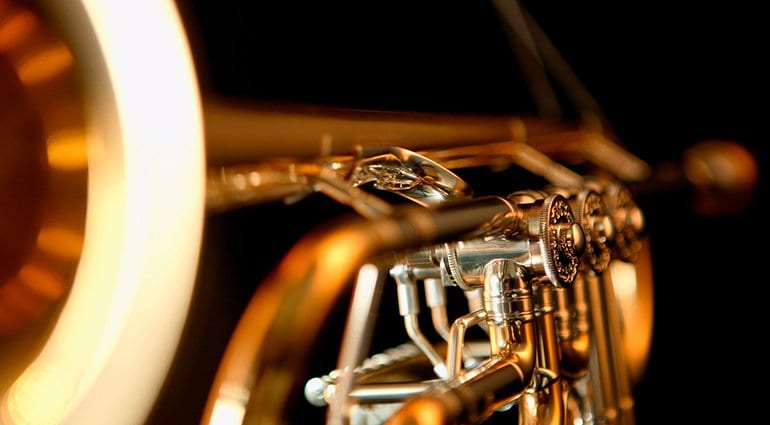 10 Gadgets For Wind Instruments
10 Gadgets For Wind Instruments
Whether you're a beginner or a professional – all wind instruments require a lot of physical activity from holding the instrument to controlled breathing. And not to mention while playing the perfect sound at exactly the right moment, together with an orchestra or band. Therefore it pays off if you are well equipped and organized. ??
Here are a few tips to help you make your life more comfortable:
---
Turn on the light!
When on stage or in the pit of the orchestra, it is often dark, and difficult to read notes. Rather than wait for the off chance of a spot light coming your way, simply turn on the efficient LED desk light Duet 2 from Mighty Bright. A total of four extra bright light-emitting diodes between two swan necks, which can be switched individually. This portable mini-lamp can also be used as a bedroom reading lamp and is powered by means of batteries or a power supply.
Be well organized with damper stands
To avoid shocks to your instrument, accidental falls and neurosis, place all your mutes on a single stand and access them easily. The HCHA-100 Mute Holder from Hercules Stands is a multi-armed holder which easily mounts to the microphone stand or music desk. All holders are well padded with a special foam to prevent damages, scratches or abrasion to your precious musical accessories.
Quick damper accessibility
Often, the simplest solution are also the most effective. The Manhasset Mute Holder Trumpet 1320 is very popular among trumpet players, because of its quality, convenience and reliability. It mounts to all conventional music stands and does its job very well, leaving the player the freedom of mind to focus entirely on the music.
Help after the concert
After a fantastic performance, the concert is now over and it's time to pack your instrument. Unfortunately, the mouthpiece is stuck to the instrument and is difficult to remove. To avoid using too much force which may lead to damaging it, take advantage of the MP-1 Mouthpiece Puller. It performs the task with ease and is suitable for all wind instruments from cornets to tubas.
Handy in the truest sense of the word
Playing a wind instrument can be tiring, especially when the performance lasts several hours. The Neotech handrest designed for trombones and other instruments, is an interesting accessory for many busy wind instrument players and helps relieve the strain your hands. As your hands can relax from time to time, you will notice an increase in the quality of your performance.
Safety first for trombonists
It is remarkable how trombonists alter the tones of their instruments with constant arm movements. A useful piece of equipment, to protect their instrument from damage and at the same time themselves, is for example, the Hand protection for King trombones.
For those who love their trumpet…
Your instrument is very valuable – both financially as well as emotionally. The Torpedo Classic Bag for Trumpet is cushioned, has various compartments and reinforcements to properly protect your instrument. The Cordura material, makes this bag not only lightweight, but extremely durable to keep your instrument safe on your travels.
Remedies against neighborhood and family complaints
What could be better than listening to music – especially if it is your own? Unfortunately your neighbours may disagree. Silent Brass is nothing new, but always worth a recommendation. The SB 2X from Yamaha (designed for euphonium and baritone) is available for a variety of wind instruments. Finally you can practice whenever and wherever you want.
Damping effects
It is known that trumpets are not only dampened for reasons of volume, but also for tonal nuances. The Marcus Bonna Straight Mute Trumpet is particularly popular because of its sound and intonation. Made of fiberglass, it supports the bright and multi-faceted sound – and is available at a great price-performance ratio.
Jewelry for Brass
Accessories are of course important in terms of performance, but that doesn't mean we should ignore aesthetic appeal. A modest not too flashy touch of jewelry, such as the Thomann Mouthpiece Pin, shows everyone what type of musician you are, even when your instrument is not within your vicinity.
Related Links
Click here for wind instruments + accessories
What accessories do you personally swear by and would recommend to others? We look forward to your comments! ✍?????✌