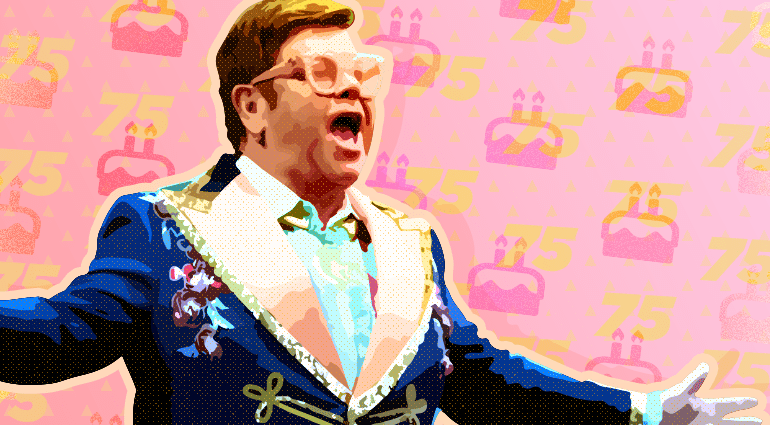 10 Elton John facts on his 75th Birthday
10 Elton John facts on his 75th Birthday
He has shaped the pop world like no other: Elton John has won almost every award in his career, including two Grammys and five Oscars, that can be reaped in the music industry. With his presence on the pop Olympus for decades, he is one of the most successful male solo artists in the world and has long been a living legend. With hits like "Your Song" or "Candle In The Wind" he played his way into the music hearts of the fans. On March 25, 2022, Sir Elton John will celebrate his 75th birthday. Happy Birthday Mr. Rocket Man! 🚀
---
1. Elton John: Storytelling with emotional depth
Elton John always grabbed his fans by the emotional horns in his songs. In his compositions, and the texts penned by Bernie Taupin, he tells gripping and profound stories. The productions are framed in partly complex harmonies and arrangements, which show his classical training. With his music he reaches the hearts of fans without being too kitsch. He has created a body of work with extraordinary expressiveness and people from all walks of life can relate to it.
2. The successful '70s
In the 1970s, Elton John placed one hit after the other. While he mainly got into the charts there with ballads like "Don't Let the Sun Go Down on Me" or "Sorry Seems to Be the Hardest Word", the German fans preferred his more up-tempo songs like the unforgettable "Crocodile Rock" or the duet "Don't Go Breaking My Heart" with Kiki Dee. With more than 550 million records sold, Sir Elton John has long been one of the most successful pop musicians in history. With almost 37 million copies sold including entry into the Guinness Book of Records, "Candle In The Wind" is the world's most successful single of all time.
3. Survivor of his own weaknesses in the '80s
At the end of the 1980s, his health thwarted his musical plans through no fault of his own. After excessive drug and pill consumption, he had to undergo a serious larynx operation. A lengthy rehabilitation period followed, during which Elton John first had to laboriously learn to speak and sing again. He didn't give up and showed growing willpower. In the meantime, Sir Elton has said goodbye to drug escapades and the like. And so he made a highly acclaimed comeback in 1992 with the album "The One", which sold more than 16 million copies, and two years later with the soundtrack to the Disney film "The Lion King" one of his greatest successes: "Can You Feel The Love Tonight" even earned him an Oscar.
4. Relentless Elton John: #1 hit at age 74
At the age of 74, Elton John had another number 1 hit in the UK charts. In October 2021, the song "Cold Heart (PNAU Remix)", produced in cooperation with the artist Dua Lipa, replaced Ed Sheeran's "Shivers" from position 1. Interesting facts: Firstly, it was Elton John's first number 1 hit after a dry spell of 16 years. And secondly, Ed Sheeran even called on his fans to help. After all, Elton John is the manager of Sophie Ellis-Bextor, James Blunt and Ed Sheeran.
5. Knighted by the Queen
After being appointed Commander of the Order of the British Empire by Queen Elizabeth II in 1995, he was knighted four years later. Since then he has been allowed to be called Sir Elton John. The award reflects not only his gigantic musical work, but also his commitment to AIDS help and as a major donor to humanitarian causes. For more than 30 years, Elton John has supported people affected by HIV with the AIDS Foundation. In 2002 he received an honorary doctorate from the Royal Academy of Music in London. In 2006 he was declared a "Disney Legend". Additionally, in 2019, Elton John was made a Knight of the French Legion of Honor by Emmanuel Macron.
6. "Candle In The Wind"
Elton John and his longtime lyricist and friend Bernie Taupin dedicated the song "Candle In The Wind" to the life of Marilyn Monroe. With the slightly-modified new version, he memorialized Lady Diana, who died in 1997 after a tragic traffic accident. Elton John performed the song in the version as "Goodbye England's Rose" at the funeral of the British princess in London's Westminster Abbey. "Candle In The Wind" then grossed 30 million euros, all of which Sir Elton John donated to the "Diana, Princess of Wales Memorial Fund".
7. Elton John: secretly shy diva behind a garish façade
Of course, Elton John has always staged himself quite extravagant. For example with his often flashy stage outfits, the eye-catching glasses including the oversized sunglasses with windshield wipers, the dizzyingly high platform shoes and his eccentric appearance. In his public image he was shrill, weird and pretentious… all attributes with which he qualifies as a typical diva. Behind the façade stands the pensive, emotional and highly committed human being. We're all guilty of hiding our insecurities somehow, right?
8. Cocker spaniel "Arthur" becomes best man
In 1984 John married the German sound engineer Renate Blauel in Australia. The marriage only lasted a short 4 years, but that shouldn't stop him from continuing to put his ex-wife on a charming tableau: "(…) She's the most elegant woman I've ever met, but it shouldn't be. I was living a lie." Elton John has been with his now husband, David Furnish, since 1993. In December 2005 they entered into a registered partnership. In 2014 the two married. It was the first day that marriages between same-sex partners became possible in Britain. By the way, best man was their cocker spaniel "Arthur". 
9. Corona infection forces Elton John to interrupt the tour
At the end of January 2022 it became known that Elton John had been infected with the corona virus and had to postpone and partially cancel his shows in the USA. Shortly before, together with actor Michael Caine, he had called on people in Great Britain to get vaccinated with a funny 90-second film clip. "(…) the greater the chances that the covid pandemic will be stopped." Even with this more than serious topic, one notices how humorously, profoundly and at the same time with a good portion of self-mockery the committed artist packages the topics that are important to him. He was always someone to listen to.
1o. Rocket Man – Elton John's cinematic autobiography
And Elton John has also left his incomparably self-deprecating footprints in various films and clips. He was seen in "Kingsman 2: The Golden Circle", where he encouraged laughter as a constantly scolding protagonist. He also achieved worldwide fame with the cinematic biography "Rocket Man". The 2019 film was inundated with nominations and awards. Sir Elton John has received so many awards that they are hard to pin down, such as his induction into the Rock and Roll Hall of Fame in 1994.
Happy Birthday Rocketman!