Zoom G3 Bundle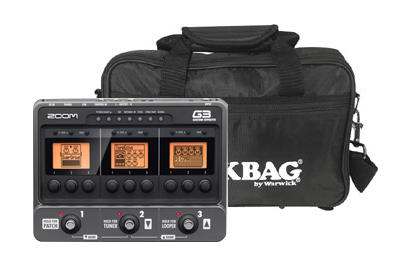 No JavaScript? No Audio Samples! :-(
Text ratings for this product are available in another language only so far
Unfortunately there was an error. Please try again later.
– Assumed from Zoom G3
Klein, praktisch und gut
| | |
| --- | --- |
| Total | |
| quality | |
| features | |
| handling | |
| sound | |
DizzyKrissi, 15.12.2012
Das G3 soll drei Aufgaben bei mir erfüllen:

1. zum Üben mit der Band via Jamhub brauchbare Sounds auf die Kopfhörer zaubern, die inspirieren anstatt zu nerven.
Das funktioniert wunderbar. Dazu habe ich mir vorerst 2 Basis-Patches für Vintage-Blues-Sounds (Fender Combo+Tubescreamer+Tremolo / Marshall+Tubescreamer+chorus) zusammengestellt und kann dann nach Bedarf die einzelnen Effekte dazuschalten.
Schade nur, dass man gezwungen ist die Noise-Reduction an bestimmte Stellen des Signalweges zu legen, da das Abschalten hierbei weniger sinnvoll ist und man nach dem Patch-Wechsel scrollen muss, damit man seine Wunscheffekte auf den 3 Displays hat.
Übrigens solltet Ihr zuerst mal ein Firmware-Update machen, so dass ihr 6 Effekte gleichzeitig nutzen könnt.
2. Gute Sounds für Gitarrentutorials liefern, die ich mit einem Camcorder aufzeichne.
Funktioniert genauso gut
3. brauchbare Effekte für den Live-Betrieb liefern, so dass mein Pedalboard entlastet wird.
Da das Amp-Modelling entfällt, hat man immer drei von sechs Sounds im Blick und kann sie nach Belieben an- und ausschalten. Der An/Aus-Zustand der Pedale wird übrigens mitgespeichert (prima).

Zum Wechseln der Patches muss man den linken Fußschalter gedrückt halten und kann dann durch die Effektkette steppen bzw. die Effekte umschalten.

Und wie klingt es?
Im Vergleich zu meinem alten Zoom G7 klingen die Clean-Sounds organischer, zerren allerdings schon bei niedrigem Gain. - dafür hat man in der Master-Sektion genügend Reserven für die finale Lautstärke, so dass das kein Problem darstellen sollte.
Die Zerrsounds klangen schon beim G7 ganz ordentlich und beim G3 hat man noch eine Schippe draufgelegt.
Was mich allerdings besonders überrascht hat waren die Crunch-Sounds, die grundsätzlich bei allen Modelling-Prozessoren, die ich bisher benutzt habe, ziemlich bescheiden geklungen haben.
Die Marshall-Sounds klingen richtig amtlich nach übersteuerter Röhre.
Die Effekte klingen insgesamt gut, aber man hätte sie besser in verschiedene Gruppen unterteilen sollen, da das Suchen doch etwas umständlich gehalten wurde - selbst beim Editieren am Rechner.
Ansonsten ist die Bedienung intuitiv und man kann schnell mal ein paar Justierungen vornehmen, ohne die Musikerkollegen mit Wartepausen zu nerven.
Anstatt vieler "unnötiger" Effekte hätte ich mir u.a. mehr Hallpedale gewünscht (obwohl die vorhandenen qualitativ durchaus gut sind).
Die Noise-Reduction arbeitet gewohnt gut (die war schon beim G7) klasse.
Für den Preis bekommt ihr ein gutes und durchdachtes Gerät, welches dank der stabilen Bauweise auch im Live-Betrieb eine gute Figur abgibt.
Zudem kann man entweder über XLR oder Klinke das Signal an's Pult oder den Amp weiterleiten.

Mein Fazit: eine gute Investition
Unfortunately there was an error. Please try again later.
– Assumed from Zoom G3
Gutes Gerät mit Problemen
| | |
| --- | --- |
| Total | |
| quality | |
| features | |
| handling | |
| sound | |
Olo, 07.01.2012
Das Zoom G3 zurückzusenden ist mir wirklich schwer gefallen, ich habe es aber trotzdem gemacht. Ich möchte allerdings auch nicht den Eindruck erwecken, dass es sich um ein überaus schlechtes Gerät handelt, daher hier eine kurze Erläuterung, was meiner Ansicht nach für und gegen das Gerät spricht.


Zum Postiven:

Das Zoom hat für den Preis wirklich viel zu bieten. Genügend Verstärker-Modelle, Effekte usw. sind an Bord, ein Looper ist dabei, Drum-Tracks sind akzeptabel. Wer dies alles benötigt, bekommt hier für sein Geld eine Menge. Das Amp-Modelling ist auch in Ordnung, ich finde (vgl. mit einem Tonelab ST über eine Squier-Strat Deluxe mit Single Coils), dass die Modelle, die ich mag (vor allem der Vox), gut rüberkommen, das Erkennen des Anschlagsverhaltens ist nicht ganz so gut wie beim Vox, aber der Ton gefällt mir im Vergleich doch ein wenig besser und ich habe das Gefühl, ich komme schneller zu dem Ton, den ich will.

Überhaupt ist die Bedienung des Geräts größtenteils sehr durchdacht und es macht Freude, schnell etwas mit den Knöpfen zusammenzudrehen, das geht (fast immer, s.u.) leicht genug von der Hand, ohne dass man in die Gebrauchsanleitung sehen muss, alles ist selbsterklärend und über die Endlos-Drehknöpfe problemlos einstellbar. Fussschalter und Gehäuse sind Metall und machen einen stabilen Eindruck, die Drehknöpfe sind "eine Etage tiefer" angebracht, damit man nicht draufsteigt, auch hier hat Zoom mitgedacht.


Zum Negativen:

Leider habe ich trotzdem das Gefühl, es mit einem leicht unfertigen Produkt zu tun zu haben, dass kurz vor dem letzten Schliff auf den Markt gebracht wurde.

Die Prozessorleistung ist zu gering für einige der Effektkombinationen, auf die ich mich gefreut habe: HD-Reverb und Amp beispielsweise lassen sich nicht kombinieren, was sehr schade ist, es ist das beste Reverb an Bord und hier sieht man, warum man in (japanischen) Marketing-Videos von Zoom das HD-Reverb immer nur mit dem Akustik-Gitarren-Simulator sieht. Wahrscheinlich kostet der Prozessor selbst in der Herstellung nur ein paar Euro, hier hätte man nicht knausern sollen, ich hätte auch mehr für das Gerät ausgegeben, damit die Marketing-Phrase "drei Effekte beliebig kombinierbar" auch hält, was sie verspricht (zwei HD-Reverbs wiederum lassen sich zusammen kombinieren und ergeben mit einem Delay sehr schöne Halleffekte).

Dann befinden sich leider nicht nur erstklassige Effekte ala HD-Reverb mit an Bord, Synth wie Organ (letzteres wohl ein Modelling-Versuch des POG) sind meiner Ansicht nach fast nicht zu gebrauchen, dass Tracking des Synth ist ein Witz, so schlecht, dass manchmal das G3 angeschlagene Seiten einfach gar nicht erkennt (mag an den single-coils liegen). Auf der anderen Seite ist das Tracking des Octavers okay, was mich am Tonelab von Vox nervte. Hier wäre es insgesamt besser gewesen, zwei oder drei sehr gute Effekte aller HD-Reverb pro Sparte ins Gerät zu packen als einen Haufen moderater oder sehr ähnlich klingender.

Was in diesem Zusammenhang sehr nervte: Durch alle Effekte durchzuscrollen (immerhin ca. 100), bis man in der gesuchten Effektsparte ankommt, lässt sich bestimmt besser lösen (hier muss ich bemerken: vielleicht geht's, habe nicht in die Anleitung geguckt). Das geht bestimmt mit der Software am PC, aber dort will ich ja gerade nicht sitzen, um Patches zusammenzuschrauben.
Und bei dem Thema: M.W. kann man den Looper nicht pre oder post schalten. Gerade für Patcherstellung ist das schade, wenn ohnehin alles in einem Gerät vereint ist (beim POD HD 300 geht das).
Und man kann das Tap-Tempo nicht im stehen einstellen, was in Band-Situationen grundsätzlich schade ist. Ein, zwei Schalter mehr am Gerät hätten auch nicht die Welt gekostet (dafür hat das Gerät wiederum eine sehr kompakte Größe).


Also, wie gesagt, eigentlich ein schönes Gerät, bei dem man sehr viel (und auch sehr viel Gutes) für relativ schmales Geld bekommt. Ich wette, eine Menge Leute, würden sehr positiv vom Gerät überrascht sein, gerade im Vergleich mit den großen Namen der Branche wie Line6. Ich würde das Zoom3 wegen der Bedienbarkeit und der freien Zuordnung einem Pod eigentlich vorziehen...leider fehlte für mich trotzdem der letzte Schliff. Vielleicht behebt Zoom ja noch einige der Kleinigkeiten mit Software-Updates.
Available immediately
| | |
| --- | --- |
| item number | 268931 |
| sales unit | 1 piece |
| available since | July 2011 |
sales rank
in this category
Rank 99
at thomann.de
Rank 46414
Your Contact People
Phone: +49-9546-9223-20
FAX: +49-9546-9223-24
Find Multieffects for Guitars
Download

Review

Online guides
Offers include
21% Belgium VAT
and are valid as long as stocks last.
Shipping costs
to Belgium are 2,50 EUR,
free shipping
on orders above 49 EUR. Please
click here
for international Shipping rates. We do not accept liability for typographical errors or inaccurate information of any kind. *RRP = manufacturer's / distributor's recommended retail price in Germany
Payment & Security
Shop
Sitemap
Contact & Service
For our groupies...

Payment can be made safely and securely with Cash on Delivery, Credit Card, Bank Transfer, PayPal or Amazon Payments.

+49-9546-9223-55
international@thomann.de

Thomann GmbH
Hans-Thomann-Straße 1
96138 Burgebrach
Germany




Shop

Fine print
ID: 268931
© 1996 – 2017 Thomann GmbH
Thomann loves you, because you rock!