| | |
| --- | --- |
| Thomann Sommerfest 2013 Impressions | |
The 22nd Thomann Sommerfest was a raving success: On Sunday, June 9th, 7.500 visitors from all across Europe came to Treppendorf to enjoy shows, workshops and plenty of music acts.
The Thomann Sommerfest was a raving success:!
7500 satisfied visitors can't be wrong: For the 22nd time in a row, the traditional Thomann Sommerfest turned the music shop's home village of Treppendorf into a festival area for a day. Musicians from all across Europe came, partied in our marquee and enjoyed a colourful mix of music ranging from brass music to rock and foods from bratwurst to cream tart. All tastes and flavours covered!
Just in time for the Sommerfest, our new Service Center has opened its doors: 120 qualified employees work in this state-of-the-art 60,000 square foot facility, allowing us to service and repair instruments and equipment locally. A new auditorium with multimedia facilities provides space for giving workshops – used by the renowned guitar maker Paul Reed Smith to personally show off his high-end guitars during the day.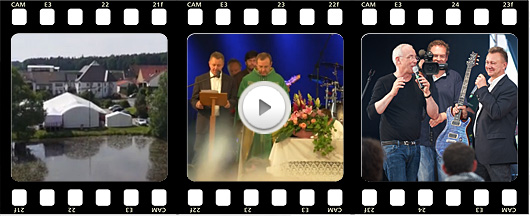 While the main stage was rocked by a host of different acts, many guests used the opportunity to visit one of the guitar-, bass-, synth-, studio- and drum-workshops or get their questions answered first-hand by manufacturers' representatives. One of this year's highlights was an especially prepared laser-lightshow: Our guys from the lights department really went to town with their new laser- and Stairville LED-products. The shop was also open from 13:00 to 18:00, so gear hungry visitors could use their visit to check out gear, talk to our sales staff – and secure their deal right there and then. Guided tours allowed guests to look behind the scenes, and see first-hand how we are supplying musicians all over Europe with instruments and equipment from our logistics center in Treppendorf.
We hope to see all guests again next year – for a truly special event: Musikhaus Thomann will turn 60, this will be celebrated with a mega-party, promise!
If you have questions regarding the Thomann Sommerfest, please don't hesitate to send us a mail to
info@thomann.de
.