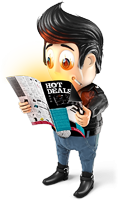 Cancel Hot Deals Catalogue
You receive more than one copy of our Hot Deals or you want to cancel our catalogue altogether. No problem! Please tell us your address, and we'll delete it from our mailing list.
Should you be interested again in our Hot Deals at a later point or need a copy for your organization or band, you can re-enter your address anytime.