Electric Guitar
40th Anniversary Vintage Edition

Nyatoh body

Maple neck

Maple fingerboard

Black dot fretboard inlays

Neck finish: tinted satin urethane lacquer

Neck profile: C

Fretboard radius: 241 mm (9.5")

Nut width: 42 mm (1.650")

Bone nut

21 Narrow tall frets

Pickups: 2 Fender-designed AlNiCo single coils

Master volume and master tone controls

Single layer black anodised aluminium pickguard

3-Saddle strings-through-body Tele bridge

Vintage style tuners

Aged chrome hardware

String gauge: .009 - .042

Colour: Satin Vintage Blonde
Available since
July 2022
40 years of the Squier Telecaster!
2022 marks Squier's 40th anniversary, and to celebrate, the brand has launched a series of limited-edition instruments - which of course include the legendary Telecaster. The Squier 40th Anniversary Telecaster, shown here in its traditional Satin Vintage Blonde finish, is loaded with a set of Fender-designed AlNiCo single coil pickups, and the guitar's vintage looks are optimally enhanced by its robust aged chrome hardware. This anniversary model from Squier features a nyatoh body with a classic one-piece maple neck to provide a totally natural playing feel, and its two single coils deliver both the characteristic "Tele twang" and a sonic spectrum that covers everything from clean through to overdrive while retaining clarity and definition at all times. The guitar wouldn't be complete without the classic three-saddle Tele bridge, of course - and the neck plate also features a special "40th Anniversary" engraving.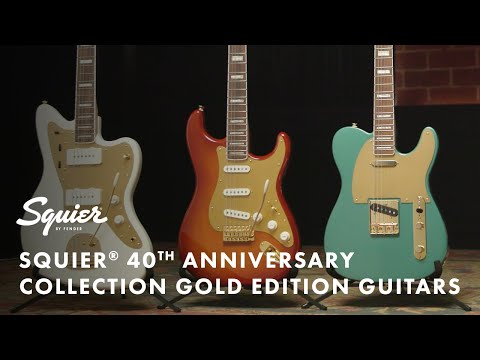 Traditional vintage design
The sound of a Telecaster will eminently suit a wide range of musical styles, whether you want to play Country, Blues, or Rock & Roll in any of its many guises. What is more, the Telecaster has earned itself a reputation as one of the most playable guitars in the world, and the Squier 40th Anniversary Telecaster fully upholds that reputation by delivering pure playing comfort with its slim maple neck and 21 "narrow tall" frets. Its two New Player AlNiCo V single coils provide the typical Tele-type sound, complete with the instrument's signature "twang" and are governed by a simple control layout comprising a three-way selector switch and a single control each for volume and tone. The guitar's classic looks are further enhanced by its vintage-style "ashtray" bridge with three saddles and through-body stringing, which also increases the instrument's sustain and resonance.
For fans and collectors alike
Like every other Tele, the Squier 40th Anniversary Telecaster is a veritable workhorse that is designed for sonic flexibility right out of the gate. Despite its limited production run, this guitar also comes at a very affordable price, which makes it interesting for collectors as well as giving ambitious beginners the opportunity to get their hands on a limited-edition Tele that is unlikely to be available with the same combination of features ever again. As one would expect, this anniversary-edition Squier is a versatile instrument in the rehearsal room, on stage, and in the studio, where its sonic palette can be fully exploited and the player can enjoy the smooth playability with which the Telecaster has long been synonymous in every position on the fingerboard.
About Squier
Fender is without doubt one of the most legendary guitar and amplifier manufacturers of all time. The company was founded in 1946 by its namesake Leo Fender († 1991), whose innovative ideas brought a breath of fresh air into the musical world. His Telecaster, Stratocaster, Precision Bass, and Jazz Bass are not only classics – they also continue to shape the styles of musicians in countless genres to this day. Incidentally, Squier has existed as a company since the 19th century. It supplied Fender with strings right from the start, before being acquired by the company in 1965. Fender has been producing its iconic guitar and bass models at beginner-friendly prices under the Squier brand since 1982.
From Funk to Rock and from Soul to Blues
The sound of the Telecaster is inextricably woven into the fabric of Rock music history, and in keeping with this tradition, the Squier 40th Anniversary Telecaster will capably handle numerous different musical styles, delivering everything from glassy, sonorous cleans with plenty of "Tele twang" through to gritty, punchy overdrive sounds for riff work and singing leads, all while retaining excellent presence. Despite only having three pickup combinations to choose from, players can get virtually any sound they want from the guitar's AlNiCo single coils, a task made all the easier by the guitar's excellent playability. Last but not least, the robust "aged chrome" hardware enhances the Telecaster's vintage character, and its "limited edition" status is sure to make it all the more special.
This is what customers who viewed this product bought