The question of which reeds to play on is a tricky subject, and probably never one to be broached with another bassoonist if you are on a tight schedule - the resulting argument may take some time! Your choice of reed is very individual and to an extent, there is no right or wrong answer. In the beginning however, it's best to go with whatever your teacher recommends. They will usually suggest something that is relatively thin, and therefore easy to make a sound on. These can start to sound 'tinny', so a teacher will often encourage the use of stronger reeds as you progress, although this is not always the case. Always make sure there is room in your reed case for
AIRSome artists and producers believe that AIR - Always In Record - is a valuable technique, because it can capture moments of musical magic that may otherwise go unrecorded. It simply means that the tape or hard drive never stops running during a session.

air
to circulate around the reed and
DryA signal or recording that has no effect applied to it. Effects units often incorporate a control to adjust the mix of dry and 'wet' signals.

dry
it out properly after use. This will help prevent the reed from decaying, and enhance its longevity.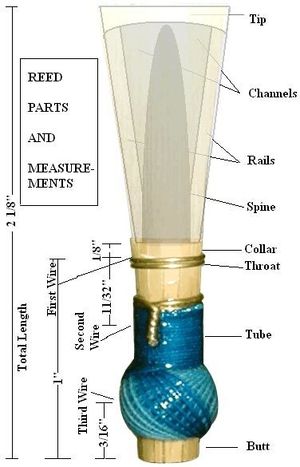 Reeds can be bought as a finished product, and as there are several different manufacturers, you are almost certain to find a type that works well for you if you're willing to experiment a little. They are quite expensive however, as each one has taken someone a fair amount of time to make and scrape (alter) so that it is playable. They usually cost between twelve and twenty pounds. Financially, it can work out better to make your own, although this does require investment in several tools - a specialist reed knife, a 'mandrel' on which to place the reed while scraping, and a 'plaque' to
SustainA general term with various specific meanings in music/audio production: 1) In general terms, how well an instrument's sound persists once played. 2) The third part of the ADSR envelope used by many synthesisers, Sustain ('S') determines to what volume a note decays after it is triggered, but before the key is released. (Decay 'D' controls how fast this happens) 3) The piano pedal which removes the dampers from the strings, so that notes will continue to sound even after the keys have been released. This is implemented in MIDI as a specific message with 2 possible values: 127 (pedal down) and 1 (pedal up).

hold
open the blades. You may also need a 'reamer' that is used to bore out the inside of the reed so that it fits snugly on the crook. There are several other specialised tools such as profilers, shapers and gouging machines, but these are very expensive, in the order of several hundred pounds, and are generally only used by professionals. Making reeds is something that your teacher will usually be able to show you how to do, but it is generally advisable not to go down this time consuming route until you are a more advanced and committed player. Most players learn to adjust ready-made reeds, long before they embark on making their own, scraping them or adjusting the wires to individual taste.