The more advanced features of headphone amps tend to be geared to specific applications. In-ear stage monitoring continues to
TrimThe initial gain control on a mixer or other audio device such as a mic preamp, often labelled 'gain'. Trim/gain adjustment is crucial to maintaining a clean gain structure and good signal-to-noise ratio.

gain
popularity at the expense of wedge
Monitor1) Recording studio loudspeaker. 2) Stage loudspeaker, usually wedge-shaped, facing the performers so that they may hear themselves. 3) Computer display screen.

monitors
. At the musician's end, this generally involves some sort of headphone amp; while a conventional model is fine for a player who is in any case unable to move around (for example a drummer or keyboard player), others such as singers and guitarists usually use wireless systems, where the headphone
AmpereUnit of current; the amount of electricity flowing through a conductor. One Ampere is equal to the flow of 6.25x10^18 electrons through a conductor in one second.

amp
is essentially incorporated into a wireless receiver. For more information on this, please consult our In-Ear Monitoring Online Advisor. As we have seen, a multi-channel headphone
AmpereUnit of current; the amount of electricity flowing through a conductor. One Ampere is equal to the flow of 6.25x10^18 electrons through a conductor in one second.

amp
is effectively a type of
ConsoleA device through which audio signals are routed for mixing, monitoring, processing and re-routed for either recording, amplification or both. A console contains a number of channel strips and a selection of auxiliary, monitoring and main outputs.

mixer
and it is no surprise that other
ConsoleA device through which audio signals are routed for mixing, monitoring, processing and re-routed for either recording, amplification or both. A console contains a number of channel strips and a selection of auxiliary, monitoring and main outputs.

mixer
features are often incorporated into their design. These include level metering, equalisation (EQ) and solo/mute buttons.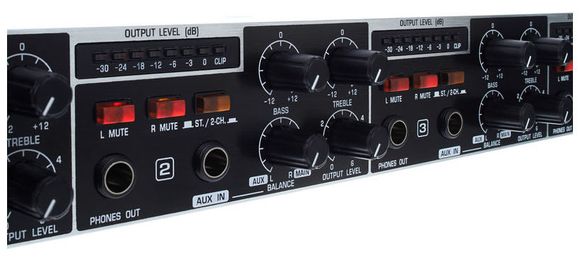 Some of the most advanced headphone monitoring systems use computer networking technology (usually Ethernet) to distribute multi-channel sound around studios and other venues such as theatre pits. The recording engineer (or
Monitor1) Recording studio loudspeaker. 2) Stage loudspeaker, usually wedge-shaped, facing the performers so that they may hear themselves. 3) Computer display screen.

monitor
engineer) sends many discrete sources or submixes to a distribution unit, where they are combined into a multi-channel
AudioGenerally used to mean "sound"; technically it describes periodic fluctuations of air pressure or electrical energy at frequencies and amplitudes within the human range of hearing; sound, or electrical energy that represents sound; acoustic, mechanical, or electrical frequencies corresponding to normally audible sound waves.

audio
stream which is output via
EthernetOriginally developed by Xerox in the 1970s, Ethernet is the most common protocol used today for connecting computers to local area networks. Ethernet uses RJ-45 connectors and coaxial or twisted pair cable connecting to the computer's motherboard or PCI network adaptor card, operating at speeds from 10Mbps to 10Gbit.

Ethernet
. Individual musicians may then be given their own controller/mixer units, connected to the nearest network socket, on which they may
DampTo reduce vibrations - in music this usually refers to the technique of reducing an instrument's vibrations and overtones by touching it in some way, to shorten the length of the note and deaden the timbre of the sound. For example, a percussionist may place the palm of his hand on the skin of a kettle drum, or a guitarist might use the wrist of his plectrum hand to rest against the strings. Also used to describe the effects of acoustic treatment.

mute
,
PFLPre-Fade Listen: a type of solo function on a mixing desk whereby a channel is monitored (usually via monitor outputs only, not the main outputs), bypassing its fader (and usually also pan) setting and muting all other channels.

solo
or adjust individual components to their own requirements.