Most professional musicians carry an electronic tuner at all times; after all it's sometimes not always easy to find a quiet place to tune up. A
Chromatic1) Involving the addition of musical colour by the addition of accidentals. 2) Proceeding by semitones.

chromatic
tuner can really help, especially in a professional environment where time may be of the essence.
Chromatic1) Involving the addition of musical colour by the addition of accidentals. 2) Proceeding by semitones.

Chromatic
tuners differ considerably from those which used to be known simply as guitar tuners, as the device itself recognises the note you are closest to, and of course the amount of adjustment required. Most
FootswitchA switch operated by the foot to turn on or off a function while both hands are playing an instrument as in guitar effects pedals or synthesizer patch changing.

footswitch
tuner pedals
DampTo reduce vibrations - in music this usually refers to the technique of reducing an instrument's vibrations and overtones by touching it in some way, to shorten the length of the note and deaden the timbre of the sound. For example, a percussionist may place the palm of his hand on the skin of a kettle drum, or a guitarist might use the wrist of his plectrum hand to rest against the strings. Also used to describe the effects of acoustic treatment.

mute
the output to the
AmplifierA device for increasing the power of a signal by taking power from a supply and shaping the output to match the input signal.

amplifier
, so no one can actually hear you tune up; a huge leap from the days of using a pitch pipe to check your intonation! There are generally speaking four distinct types of types of electronic tuner on the market at present, each with their own advantages and drawbacks.
Pocket Tuners: These are small inexpensive devices, that generally work as well as any other, the downside being that they are most often not designed to be in consistent use (i.e. throughout a long gig) due to their lightweight design and small displays.
Pedal Tuners: These tend to work on exactly the same principle (and may indeed share identical circuitry) as a pocket tuner, but they tend to be much more hardwearing, have a larger display that will be read easily from a distance and may feature a true hardware

BypassAllowing an audio signal through a device without affecting it. Used for A/B comparisons.

bypass. This means that the guitar's signal will not be degraded in any way when the tuner is not in use.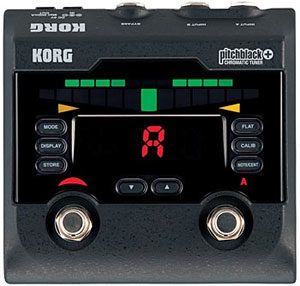 Rack tuners: Again, very similar to the units described above, but as the name implies, they are rack-mountable; the wide display area enables a more finely graded display. Many of these units have extra features such as strobe displays, integrated

MetronomeA mechanical or electronic device which produces a tick or beep at a precise tempo, for reference or use as a practice aid.

metronome, rack lights and sometimes multiple input configurations.

Vibration tuners: These devices usually clip on to the

HeadstockThe part of a guitar or other fretted instrument to which the strings are attached by means of tuning pegs.

headstock of the guitar. As they sense vibrations through the guitar itself, no cables are required. While this may be of great benefit during a

PFLPre-Fade Listen: a type of solo function on a mixing desk whereby a channel is monitored (usually via monitor outputs only, not the main outputs), bypassing its fader (and usually also pan) setting and muting all other channels.

solo performance as the tuner can be

ActiveDescribes an instrument or speaker system that has its own electronic functions built-in, as opposed to requiring external devices. Active speakers have their own amplifiers built-in, while an active instrument such as a guitar or bass will have electronic controls or a pre-amplifier.

active all the time, bear in mind that it may also sense vibrations from any other sound source loud enough to resonate through your instrument.